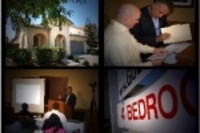 I am looking for positive, passionate, motivated entrepreneurs to become my partner. My mentorship program is unlike any other as it is focused on mutual success and nothing else. Come join me and my awesome staff.
Sacramento, CA (PRWEB) February 11, 2010
An innovative new company is emerging across the nation offering a variety of opportunities in real estate investing. INVESDOOR Corp., whose motto is "Opportunity Knocks," offers mentoring for the entrepreneur who wishes to start a home-based business in the exciting field of real estate investment. The main objective of Invesdoor Corp. is to wholesale properties to all-cash home buyers. Whether they plan to fix and keep or fix and flip, these cash home buyers can procure discounts of up to 30% below market value, depending on the property.
INVESDOOR(TM) addresses 3 essential facets of real estate investing:

Offering huge discounts on properties across the U.S. to all-cash home buyers with local Territory Managers in several states
Operating a one-of-a-kind REI mentorship program by accomplished real estate investor, C.J. Lauria, for positive-thinking, motivated entrepreneurs
Providing passive investment opportunities for cash investors wishing to stay clear of the responsibility of owning real estate
Cash buyers who register at Invesdoor receive email notification whenever a new property deal is available. They will be sent HOT property alerts with a short video tour of the subject property. Invesdoor T.M.s are trained to be coaches to their buyers with advice on rehabbing and marketing of their new acquisition. The Invesdoor(TM) system is based on transparency and full disclosure.
Typically, a student in the Invesdoor mentorship program enters a joint venture agreement with the corporation upon qualifying. Once they reach a designated level of training, they are assigned an exclusive territory and are then known as a "Territory Manager" (T.M.). The T.M. is coached each step of the way in finding and closing deals. When the T.M. has achieved a certain level of gross profit from their own deals, their entire initial fee is rebated as a reward for performance. Each T.M. has unlimited use of all of the Invesdoor marketing and training tools as long as they remain active in the system.
Not all cash buyers have ready cash to make their purchases. Invesdoor, LLC operates an SEC: 506 Private Party Memorandum wherein investors with cash (or even a self-directed IRA) can take advantage of the current real estate market opportunities in a passive manner. For an informational discussion of one's options visit our private lending page for a free download. Buyers need cash. Investors can buy notes in the Invesdoor fund and receive a much-better-than-average return on their money secured by real estate which is obtained at a low LTV (loan to value).
This is also opening up the door to families with fairly high, secure household income who find themselves "under water" on their mortgages. If qualified, these families can enroll in the Invesdoor "Homeownership Preservation" Program at no cost to them. In this program they will short sell their present home and purchase another, often at a discount, with the help of private money. Families can often repair their credit in approximately 24 months.
C.J. Lauria is an established expert in the field of real estate investment. He is the founder of Invesdoor Corp. that provides cash home buyers wholesale deals on properties nationwide. He directs a Real Estate Investing mentorship program for new and experienced REI people. For further information visit Invesdoor website or contact us directly:
C.J. Lauria or Allen Tapp
Phone: 1 888 380 Invest (4683)
Email: info(at)invesdoor(dot)com
Web: Invesdoor.com
###