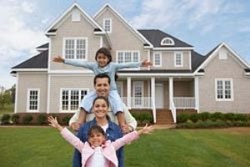 Orlando, FL (PRWEB) October 26, 2007
RealNet USA, a leading Real Estate Investment firm, provides a full range of services to investors that make the task of finding good Real Estate Investment properties easier than ever before. Dedication to providing the very best deals on property and hard to find services for all their customers is what makes RealNet USA a leader in the Real Estate Investments service market.
The process is simple; RealNet acquires large numbers of various properties at great prices and resells them as Real Estate Investments to their growing list of investors below fair market value. One such property (1180 square feet with 3 bedrooms) is listed for Volusia County, Daytona Beach, Florida at the acquisition price of $95,000. Also listed is the estimated price the house could fetch after renovation, a figure of $135,000. At a glance investors can establish their price and their profit, and with further information from one of the RealNet representatives can be quickly on their way to success in Real Estate Investing.
With RealNet, finding the right property is as simple as browsing the web, because these investment experts have taken all the hassle out of the negotiation process for their clients. A step which usually is the difference between an investor's ultimate success or failure in the Real Estate Investing market. Once the right property, at the right price is found RealNet helps investors address their financial concerns through the help of an affiliated mortgage banker. Lastly, RealNet provides investors with an extensive list of qualified renovation experts and trades people to get the property properly renovated. RealNet provides everything investors need from start to finish with expert help and advice every step of the way.
The Real Estate Investing professionals at RealNet USA are committed to helping their investors enjoy the success of Real Estate Investing, and offer a wealth of resources all in one place. Experienced representatives answer all investors' questions on Real Estate Investing and Real Estate Investments with straightforward advice. The RealNet USA Real Estate Investing program take their investors through every step of the Real Estate Investing process from finding the right property to relisting the property for re-sale or rent.
Real Estate Investing has never been easier because the experts at RealNet USA do the hard work for their clientele by finding the right property and negotiating the price, in effect removing the most difficult step from an investor's path. Dedicated to helping their investors achieve success in the Real Estate Investment properties market, RealNet provides their investors with all the tools required to grow and profit in Real Estate Investing.
Those interested in Real Estate Investing, procuring a Real Estate Investment for the future, Orlando Real Estate Investments, or in further information about RealNet USA or RealNet's other 14 office locations (Atlanta, Charlotte, Cincinnati, Columbus, Dallas, Fort Lauderdale (South Florida), Fort Myers, Houston, Jacksonville, Jupiter, Melbourne, Nashville, Northern Kentucky, Tampa) are invited to visit the official website at http://www.RealNetusa.com. Or write to RealNet USA at 1249 N, Orange Ave., Orlando, Florida 32804, or call Toll Free (866) 500-4500 or (407) 422-1000.
Contact Information
RealNet USA Corporate Headquarters
1249 N. Orange Ave.
Orlando, Florida 32804
Or call: (407) 422-1000
###