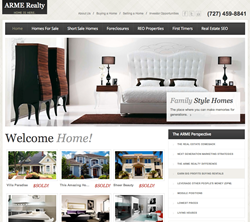 Nationwide (PRWEB) June 22, 2013
A Clearwater FL real estate investor SEO firm has just announced the release of their search engine optimization technologies for real estate investors nationwide. With the market making a rebound in many communities around the country, savvy investors are re-entering the marketing trolling for deals.
Because of this, ARME Realty.com has come to task by releasing a unique web development technology allowing real estate investors to market their buying programs to sellers nationwide via the search engine marketing strategy. With this technology, the company claims investors can now "troll" for deals online, letting the technology do most of the work in finding sellers with just the kind of deals investors are looking for.
"This technology is unlike anything on the market today. Many sellers are in distress and are looking to exit their homes for below market value. Savvy buyers have waited for just this time to buy up all the great deals, but these buyers often spend a ton of time looking for the right deal. With our web development technology and a solid real estate investor SEO plan, an investor can now sit back and let the perfect deals come to them," states Simon Landers, spokesperson.
While ARME Realty.com is a startup as of January 2013, the principals of the firm have years of experience in the realm of search engine marketing, email marketing, social network management, data analysis, and more. They've covered major online marketing campaigns for many niches including cell phone franchises, interior design, travel and entertainment, real estate, and much more.
With the company uniquely positioned to be a force in the real estate marketing game, now would be a perfect time to call the company at (727) 459-8841 or visit ARME Realty.com today.