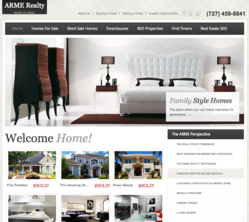 We are changing the way that real estate agents and brokers advertise themselves online
Nationwide (PRWEB) June 22, 2013
Real estate listing SEO technology now available to brokers nationwide. There are many realtors who seem to have independent websites that advertise themselves and their area of expertise. It has little attached to it and does not provide much content. Essentially this type of website is a virtual business card. It dose not get many views and simply sits on the internet.
Using real estate listing SEO services such as the services now being offered by ARME Realty.com can greatly increase the popularity, traffic and rankings of a broker's website. In order to receive the full benefit that owning a website has to offer you have to dig deeper. Websites are built upon pages. These pages are articles that talk about the items that the broker is trying to sell. They add size to the website, an inventory that increases the website's value. This is where the real estate listing SEO services of ARME Realty come in handy.
ARME Realty.com is an online real estate media marketing firm that specializes in the area of search engine optimization research and technology. Their latest software release consists of a plugin for Joomla websites that can increase the size of a website as well as its rankings in half the time normally offered by a web development company. Through the use of keyword data compiled with city, state and zip code combinations the websites are said to grow continuously over time.
"We are changing the way that real estate agents and brokers advertise themselves online," says Simon Landers, spokesperson for ARME Realty. "The integration of MLS into a website is great for an average website, but if a broker wants to advertise their properties and sell the properties that they have available, as well as develop new clientel then AMRE Realty's web development tool kit is what you need," continues Simon Landers.
If you would like to learn more about ARME Realty and the real estate listing SEO services they offer please contact an agent by calling (727) 459-8841