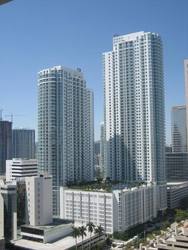 Miami, FL (PRWEB) November 24, 2009
Recent research has shown that 90 percent of home buyers start their search for a property online. In the Greater Miami Area, the majority of condo buyers are looking for a great deal on a distressed property or a new construction unit. The recent weakness in the dollar combined with the sharp fall in condo prices, has made owning a Miami condo an attractive opportunity for many Europeans and Latin Americans. However, the market for distressed and new construction condos is is plagued with a lack of transparency and many potential pitfalls.
Miami Condo Shop was designed to help buyers locate properties, and also educate them about the market by putting historical sales data, market trends, and news items at their fingertips. Once on the new site, visitors can connect with a knowledgeable Realtor to answer their questions or to arrange a property showing.
Marc Knight, creator of Miami Condo Shop, says "Miami and Miami Beach remain one of the most desirable areas in the world to live. The condo crash has provided a great opportunity for individuals looking for a second home or investment property. The majority of inventory is still overpriced, but there are many great deals to be had. The challenge is to find those condos that are priced well. It is also important to understand the health of the condo association and the characteristics of the overall market."
Miami Condo Shop employs an interactive Miami Condo Map Search using Google Maps that allows visitors to locate and search over 200 condo buildings spread throughout Miami, Miami Beach, and Sunny Isles Beach. Visitors also have access to extensive listing information on over 10,000 properties that contain detailed neighborhood content (provided by WalkScore), property price estimates (provided by Zillow), and sales price history graphs.
In an effort to interact with and provide relevant condo news to its visitors, Miami Condo Shop provides condo market reports as well as a real estate blog. Using data provided by Altos Research, visitors can access graphs of condo median prices, inventory levels, and days on market for specific zip codes. If they want to remain updated on the market, they can opt to receive a weekly email. The Miami Condo Shop Real Estate Blog contains posts about the latest condo news in the Miami area. Miami Condo Shop also connects with users via Twitter, Facebook, and LinkedIn.
For more information about Miami Condo Shop, please visit MiamiCondoShop.com or contact Marc Knight.
About Marc Knight
Marc Knight is an independent Realtor specializing in distressed and new construction Miami condos for sale, Miami Beach condos for sale, and Sunny Isles Beach condos for sale. He holds a Masters in Electrical Engineering and Computer Science from the Massachusetts Institute of Technology and worked on Wall Street as a derivatives trader for several years.
###