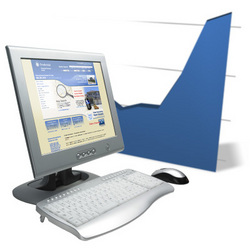 It's nice knowing buyers not previously familiar with us are finding our website through search engines...
Lancaster, PA (PRWEB) July 16, 2010
If you're searching for homes in the Harrisburg, Reading, Lancaster or York areas of Pennsylvania, you might notice a new face in town.
Prudential Homesale Services Group launched a ground breaking new real estate website and lead management system, designed to provide home searchers the best user experience.
"Buyers and sellers today require a more robust user experience," said Rod Messick, CFO at Prudential Homesale Services Group. "Buyers want to find listings quickly and easily, find market information, see the listing on a map, and receive a near-instant response from an agent when he or she decides to request more information on that listing.
"Sellers want to know their listing is getting the most exposure, through the website, mobile devices and search engines. They want to search for their listing by address and find it on your website with full details without digging through pages of search results."
Though Prudential Homesale Services Group's http://www.PrudentialHomesale.com officially launched nearly one year ago, the site has undergone several recent changes to help boost performance for home searchers and sellers.
Among those are new market landing pages for York, Reading, Lancaster, Harrisburg and surrounding markets, easy drill-down property search options, a calendar system showing new listings by date and more.
Perhaps the most significant change to the website, however, is its placement among search engines. Prudential Homesale Services Group listings are easy to find through search engines with first page placement when searching by address. Pair with that the improved search engine presence for market-based searches, and PrudentialHomesale.com has seen a spike in search engine activity. In fact, the website has had a 250 percent increase in search engine visitors in a recent three-month span.
"The search engine traffic has been great," Messick said. "It's nice knowing buyers not previously familiar with us are finding our website through search engines, and sellers are confident in their listings' presence and exposure on search engines."
Visit http://www.PrudentialHomesale.com to view the Prudential Homesale Services Group real estate website or to search for homes in York, Reading, Harrisburg, Lancaster and surrounding Pennsylvania areas.
About Prudential Homesale:
Prudential Homesale offers customers a menu of services including realty, mortgage, settlement, insurance, warranty, relocation, builder/developer services, career services, and a complete customer care center. The only regional real estate company with headquarters in the area, Prudential Homesale offers its services to 11 contiguous south central and southeastern Pennsylvania counties. According to REALTrends, Prudential Homesale Services Group, Inc. is the #16th most successful real estate brokerage in the country in the combined delivery of home services: real estate sales, mortgage closings, title closings and home warranty sales. "We help people achieve their dreams" is the core purpose of its associates as they strive each day to help others achieve the American dream of homeownership.
Contact Prudential Homesale at 1-800-383-3535 or visit http://www.PrudentialHomesale.com for more information.
About Delta Media Group:
Canton, Ohio-based Delta Media Group is a national real estate technology developer. Serving more than 32,000 broker and agent real estate professionals, Delta Media Group builds one of the most profitable tools for major brokers in the real estate industry. Delta Media Group has been in business since 1994 and works with independent and franchise brokerages across the country. Delta Media Group specializes in real estate Web sites, real estate lead management, mobile applications, IDX property search, and real estate search engine optimization (SEO). Visit http://www.DeltaGroup.com for more info.
# # #