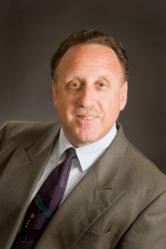 I am a big sports fan, so it was amazing to learn about what's going on inside sports
Burlingame, CA (Vocus/PRWEB) April 19, 2011
Herb Schmulewicz, a San Mateo real estate agent and active member of the Jewish Community Federation's Business Leadership Council (BLC), recently attended the BLC's annual Business Leadership Breakfast on March 9th at the Ritz Carlton in San Francisco. The breakfast featured a conversation with Laurence M. Baer, president of the San Francisco Giants, and Harris Barton, a former offensive lineman for the San Francisco 49ers, and was moderated by Bloomberg News Editor Peter Waldman. Their stories of fighting and triumph in sports and in business gave attendees like Schmulewicz insight into the nature of success.
"I am a big sports fan, so it was amazing to learn about what's going on inside sports," says Schmulewicz.
Giants President Larry Baer spoke about the challenges of the business side of running a Major League Baseball team. He talked about his role in the franchise over the years, from negotiating to keep the Giants in San Francisco in 1992 to becoming President of the Giants in 2008 to winning the World Series in 2010.
Baer's story resonated with attendees' own professional experiences. "I could draw parallels between the business behind sports and real estate: passion, commitment and integrity with a constant desire to improve," Schmulewicz noted.
Harris Barton, Managing Partner and Co-Founder of HRJ Capital, spoke about his years playing for the 49ers and his investment career. He shared insider stories, discussing what it was like to be one of two Jewish people on a football team and the pressure to succeed that has led some pros to use steroids (he noted that he's a big guy and didn't need them).
"Barton's smart play on and off the field and now in business is inspirational," says Schmulewicz. "Listening to Barton articulate his experiences in the NFL and beyond was truly enjoyable. An NFL player dreams of the opportunity to play in the Super Bowl and when given that opportunity, plays with one hundred percent passion, and executes the best he can. I treat every client's transaction as if it's the Super Bowl."
The annual Business Leadership Breakfast gave attendees a lot of food for thought. In his role as on the BLC Membership Development Committee, Schmulewicz points to opportunities such as this one as a great reason to join the BLC.
For more information about San Mateo County real estate agent Herb Schmulewicz or the BLC, call him at (650) 784-1849 or view him on the web at http://www.peninsula-realestate.com.
About Herb Schmulewicz
Herb Schmulewicz is a REALTOR® with McGuire Real Estate who specializes in the purchase and sale of single family homes, condominiums, investment properties, and luxury homes. He handles foreclosure sales and short sales while helping home buyers along the Peninsula. Although Herb is based out of Burlingame, he works throughout San Mateo County including the communities of San Mateo, Pacifica, Montara, Moss Beach, Half Moon Bay, Daly City, San Francisco, South San Francisco, San Bruno, Millbrae, Burlingame and Foster City.
###