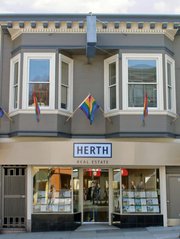 We are thrilled to bring Karen, Mary and Matt on board. These are three unique agents whose talents and skill-sets allow them to stand out from the crowd
San Francisco, CA (Vocus/PRWEB) July 06, 2011
Herth Real Estate, located in San Francisco, is introducing three new agents to its family of professional Realtors. Karen McCarthy, Mary Minor Huck, and Matt Duffy have joined the team! With their expertise and experience in this industry, Herth Real Estate is confident the new Realtors will bring wonderful contributions and service to the company and to its clients.
"We are thrilled to bring Karen, Mary and Matt on board. These are three unique agents whose talents and skill-sets allow them to stand out from the crowd. They embrace the professional and energetic spirit of Herth Real Estate" said Larry Stebbins, Broker /Owner of Herth Real Estate.
As one of the largest independent brokerages in the city, Herth Real Estate takes pride in its ability to offer individualized professional service to all of its clients, all while embracing the unique background of each professional agent. Realtor associate Karen McCarthy has spent 15 years in the technology sector, specializing in the fields of advertising, sales, marketing and consulting. While working for companies like Yahoo!, Pfizer and KPMG, she acquired the keen ability to manage the complex issues surrounding business development, making her a particularly skilled negotiator for first-time and experienced buyers and sellers alike.
Mary Minor Huck has been a real estate enthusiast for several years, investing in and developing her own property for more than 20 years and selling real estate professionally since 2004. Her personal real estate investments have run the gamut from remodeling single-family homes to sub-dividing and condo converting multi-unit buildings and TICs. Her background and education provides a well-integrated skill set to ensure a positive experience for her clients.
Matt Duffy, also a leasing and sales consultant, started his real estate career in 2004 as a loan officer in San Francisco. He conducts his business with professionalism and a genuine concern for his clients and their lifestyles. Matt's real value is negotiation and forming good relationships in the San Francisco real estate community and offering trusted advice and expertise in this market. Matt is more interested in developing a long-term relationship with his clients than a quick sale.
With all these great qualifications, professional experience and great understanding and skills in the business, these three new agents are sure to bring an unmatched breadth of expertise to the clients they serve at Herth Real Estate.
For more information about Herth Real Estate, call (415) 861-5200 ext. 277 or visit their website at http://www.herth-sf.com.
About Herth Real Estate
Established in 1965, and located in the heart of the Castro District of San Francisco, Herth Real Estate is one of the largest independent brokerages in the city. Herth Real Estate's excellent reputation has been founded on establishing long-term relationships with clients based on trust and high ethical standards. Herth Real Estate prides itself on its ability to offer individualized professional service to all of its clients. Herth continues to flourish as the premiere boutique residential brokerage serving San Francisco and in the beautiful California Wine Country. Herth helps their clients through home sales, commercial property sales and offer their expertise in both purchasing and selling luxury real estate.
###