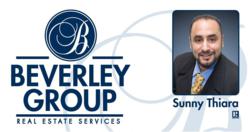 Long days and nights, coupled with the time-sensitive procedures and extremely detailed organization made this transaction possible
San Francisco, CA (PRWEB) December 24, 2011
San Francisco's real estate company, The Beverley Group, single-handedly closed a transaction consisting of 84, medium-asset class properties worth a total of $18 million. This sale further solidified the bold and high-caliber reputation that the Beverly Group has developed since its incorporation in 2009.
"Long days and nights, coupled with the time-sensitive procedures and extremely detailed organization made this transaction possible," Sunny Thiara of the Beverley Group said. "In a transaction like this, the sellers look for someone with past experience who understands this type of real estate holding; The Beverley Group is such a company. We execute sales quickly and efficiently, ensuring that buyers remember us and come back for future transactions."
Thiara leads the Beverley Group in constantly researching the climate of banks to discover opportunities like this one and other opportunities where banks need to sell assets. During a transaction, The Beverley Group acts as a meeting point between the buyer and the seller. In this case, the seller was an undisclosed, large bank, while the buyer was a hedge-fund client.
The Dublin real estate group is a private company that offers a boutique-type environment and exists in a league of its own. Beverley Group's CEO, Sunny Thiara, and his staff have built relationships over the past two decades that have given the group unmatched products. Its clientele consists of high-profile individuals and companies that understand the luxuries and finer qualities in life and demand that attention in their business dealings. The group serves the San Francisco, San Leandro, Danville, Dublin, Pleasanton, Alamo and Tiburon/Sausalito areas.
The Beverley Group real estate offices seeks out banks, seller services and asset managers from the seller. It also targets non-profit and hedge-fund companies looking for a capital partner to locate product. The Beverely Group encourages anyone to contact the group if they need help finding a product.
For more information on any of the Beverley Group's services, call 925-478-3456, view the group on the web at http://www.beverleygrp-eastbay.com or visit 1201 Fourth St., San Francisco, CA 94158.
About Beverley Group
Beverley Group was incorporated in 2009 at the peak of the real estate turmoil. The decision to launch the company during this "Depression" was to capture the respect and attention of its audience. Making such a bold statement would allow its customers to experience confidence in their decision to employ the legacy of the Beverley Group.
# # #