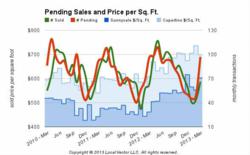 In this particularly strong seller's market, it has become crucially important to work with local agents who know the neighborhood and can provide timely and accurate information
San Mateo, CA (PRWEB) April 03, 2013
LocalVector, the online real estate engine, has added enhancements to their online community, providing home buyers with better access to promotions and experienced loan consultants and agents. Currently, the real estate market is suffering from low inventory, giving buyers very few options to choose from. Most homes for sale and even land for sale receive multiple bids, forcing each buyer to compete with many other buyers and their agents.
According to Ilya Dorfman, founder of LocalVector, "The cyclical seasonal trend tells us that between April and June each year many new listings are put on the market, offering more choices to buyers. However, comparing 2010, 2011, 2012 and the beginning of 2013, the number of new listings added to the market has been decreasing overall in most desirable neighborhoods. The latest data posted in March 2013 is pointing to a potential improvement in the near future, but we will have to see what April brings. I am certain that the demand will be exceptionally strong during the peak season this year."
These types of conditions can make purchasing real estate a more difficult process for buyers. Dorfman explains, "Now that the supply of homes is low and buyers' demand is extremely high-- especially in the better parts of Santa Clara and San Mateo Counties--the role of the Internet in helping home buyers find and secure the right property is diminished. Days on market, which is a measure of how long a property stays on the market for sale before it is sold, has decreased dramatically. Homes in good areas are sold within days--sometimes within hours--of being put on the market. In this particularly strong seller's market, it has become crucially important to work with local agents who know the neighborhood and can provide timely and accurate information about homes for sale and 'coming soon' local properties even before they are listed."
To respond to the growing need for access to truly local and experienced Real Estate professionals, LocalVector has established a partnership with an expert of real estate in Sunnyvale and Cupertino, Richard Sanchez (a Stanford graduate), an experienced broker who has been in the industry for over 27 years.
As a special promotion, Sanchez is offering a significant broker fee rebate for purchases and reduced brokerage fees for property listings to all buyers and sellers who register on the LocalVector site during April. This special offer ends April 15 and to qualify, an offer must be ratified by June 1, 2013. This promotion is localized to real estate in Santa Clara County. However, LocalVector's engine also provides information and resources for real estate in San Mateo, Santa Cruz, Monterey, San Benito and parts of Alameda County.
In addition to this promotion, LocalVector has announced partnerships with top local mortgage servicers and brokers. LocalVector is proudly partnering with Peter Frankel, Jr., a senior mortgage consultant who has been serving the San Francisco Peninsula since 1992. Loan consultants can be a tremendous help to find appropriate and matching loan products that can be closed on time and on favorable terms for the buyer.
For more information or to get additional details about the outlook in real estate, visit http://blog.localvector.com/ or contact them at (855) 212-6787 to request detailed data on any neighborhood.
About LocalVector
LocalVector was founded with the core ideals of community, simplicity, and professionalism in mind. Our goal is to connect you with Real Estate experts in your community and to provide you with the tools and local data you need to make an informed decision. Whether you are looking to buy a home, sell your home, refinance, or get a new home loan, LocalVector is here to connect you to the Real Estate professionals in your area who can give you the personal attention you deserve. LocalVector currently covers Santa Clara, San Mateo, Santa Cruz, Monterey and San Benito Counties, and it is selecting partners among established local brokerages to expand to more areas.
LocalVector's partners continuously invest their time and expertise in making sure you save time and money throughout the entire Real Estate process.
For more information about LocalVector, call them at (855) 212-6787 or visit them online at localvector.com.