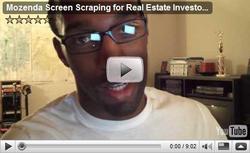 Mozenda is a great tool
Superior, WI (Vocus) August 5, 2009
Justin McClelland understands the power of information. He is in the real estate business. Historically realtors and others in this field pay serious money to obtain current, accurate information on property owners in their various target regions. McClelland, however, recently discovered how to get an edge that not only saved him money, it also redeemed him countless hours of tedious data picking. The tool he discovered was the Mozenda Web Agent Builder, a cutting edge software technology designed to quickly and easily harvest information from the world wide web.
McClelland became so enamored with the product that he even made a pair of informational videos on how to utilize Mozenda for pulling information on single family homeowners from public records. "My goal for Schwaps.com is to utilize the web to attract motivated sellers of real estate," McClelland said. To achieve this aim he needed to identify and pinpoint target prospects for a mailing campaign.
"Mozenda is a great tool," he said with earnest enthusiasm.
"It allows me to scrape the online public real estate records and create custom databases for marketing efforts. He added that the software is so intuitive he has yet to utilize the free support, though on YouTube he admitted to having a technical background.
McClelland placed the videos on his own blog http://www.justinmcclelland.com/index.php/2009/07/using-mozenda-as-a-real-estate-investor. In addition to demonstrating the ease of use Mozenda offers, he makes a pitch to barter his knowledge of the program with others who have other skills that may be of value for his business, a new variant on an ancient form of commerce.
"It is apparent that the Mozenda team paid close attention to detail regarding the design and flow of the software. Every step is guided with helpful pop-up boxes containing how-to information," he said. "Also, there is a plethora of how-to videos to get you acclimated. There is no other comparable software that comes close to the quality of Mozenda."
Company officials appreciated the ringing endorsement.
ABOUT MOZENDA:
Mozenda is a Software as a Service (SaaS) company that enables users of all types to easily and affordably extract and manage web data. With Mozenda, users can set up agents that routinely extract data, store data, and publish data to multiple destinations. Once information is in the Mozenda systems users can format, repurpose, and mashup the data to be used in other online/offline applications or as intelligence. All data in the Mozenda system is secure and is hosted in class A data warehouses but can be accessed over the web securely via the Mozenda Web Console. With the addition of a fully featured REST API, Companies can now seamlessly integrate their data automation with the Mozenda application. For more information on Mozenda web scraping software and services visit http://www.mozenda.com.
# # #