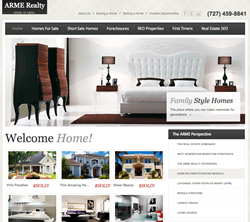 ARME Realty.com does real estate SEO and nothing else.
Largo, FL (PRWEB) June 08, 2013
Customers who are looking to move to a certain city or new location within their own city will turn to the Internet to find a realtor or company to help them find a new home. SEO will turn these customers to specific real estate websites. This means a real estate agency must have a website optimized for SEO, designed from the ground up for the best possible rankings on search engine pages.
"ARMERealty.com has a complete web kit and service for real estate agencies specifically," said Simon Landers of ARMERealty.com, a real estate SEO design company. Searchengineland.com, a website devoted to SEO news, had an article about the SEO tips to designing a website. Each of the tips provided are the very same tips that ARMERealty.com uses anytime it develops SEO for a real estate company, anywhere in the U.S.
"Run an audit, localized key words and building back links are only some of the tips provided," said Landers, "but ARMERealty.com takes it much further. A real estate agency needs localized, down to the zip code, SEO. ARMERealty.com provides that for its customers."
An SEO company, and finding a good one, will not be cheap. In fact, the majority of Internet marketing may have to go into the SEO portion of the marketing. For a small, independent real estate agency, finding the wrong company to do the work can be very costly in more than one way.
"Small agencies and large agencies that pay franchise fees and royalties cannot afford to shop and learn from mistakes with SEO design. ARMERealty.com does real estate SEO and nothing else," said Landers, "so the agency can be sure of the best possible ways to bring customers to their website."
For more information about ARME Realty.com and their services call (727) 459-8841 today or visit the website.