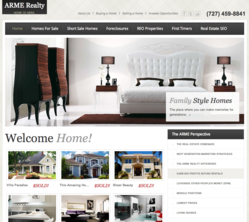 Nationwide (PRWEB) June 11, 2013
Real estate SEO experts now available for hire announces ARME Realty.com, a Clearwater FL real estate SEO company specializing in web development and search engine marketing for real estate professionals nationwide.
With real estate in many markets making a comeback, more real estate professionals are now, more than ever, looking for ways to increase their online coverage. Experts say that many of real estate's top producers in the last five years have exponentially increased their online dollars as they understand the shift from offline marketing to online marketing trends. This is why having a solid search engine optimization plan is crucial to a real estate agency's long term production goals.
"We have designed a proprietary web development toolkit that allows a real estate professional to create and distribute highly targeted content directly to buyers in the cities and zip codes in which they do business, or even more, would like to do business," states Simon Landers, spokesperson.
"On our Youtube page you can see our system in action. While this video is a good six minutes or so long, make sure you sit through it all. Then start asking yourself which areas you'd like to do business in and the properties types you'd like to target and call a representative at (727) 459-8841 to discuss your goals," continues Mr. Landers.
The principals over at ARME Realty.com have 10+ years of experience in the fields of email marketing and search engine marketing. Real estate professionals interested in building a serious, client producing website need take a look at their programs.
For more information call them at (727) 459-8841 or visit their website ARMERealty.com today.