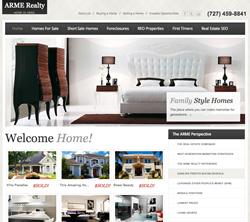 This strategy opens the floodgates for the 'long tail' opportunity.
Nationwide (PRWEB) June 20, 2013
Real estate SEO packages now available for brokerages and agents nationwide. With real estate making a comeback in many markets nationwide, more real estate professionals than ever are turning to the internet for their marketing initiatives.
NAR finds that 90% of homebuyers start their search on the Internet, but did you know that NAR also found that 80% of those homebuyers buy through a real estate agent and that 40% of homebuyers first found the home they went on to purchase using the Internet, and not through an agent?
Most real estate agents are resigned to using their websites as a digital brochure with no capability of gaining new business from the web. With statistics like this though, you cannot afford to go without a strong web presence! Partnering with a progressive website technology provider like ARME Realty.com that recognizes the unique challenges real estate professionals face is an excellent strategy to begin winning your share of Internet traffic.
"This strategy opens the floodgates for the 'long tail' opportunity. Unlike competitive or top terms like [San Diego homes for sale], long tail keywords are broader, but less searched, and therefore less competitive keywords. The key to using this as an overall strategy is sheer numbers," states Simon Landers, spokesperson for the company.
"Utilizing all of the listings in your market to compete for traffic is the smart way to go. An example would be '5 bedroom home for sale in San Diego under 500k'. This degree of specificity in keyword searches is growing as Internet users become savvier and understand how to quickly find what they are seeking," continues Mr. Landers.
For more information on the ARME Realty.com web development toolkit and how their long tail strategy can help brokers sell more houses contact the firm at (727) 459-8841 and ask about their real estate SEO packages.