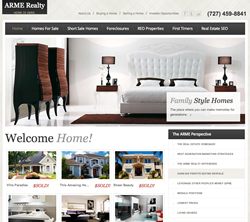 We are uniquely positioned to extract deals from any market.
(PRWEB) May 25, 2013
ARMERealty.com is a Clearwater FL company that specializes in search marketing for real estate professionals. Rather than focus on real estate and real estate services, they are real estate SEO pros of a different sort. ARMERealty.com are marketing experts who help other real estate agencies and practices increase their Internet presence with quality, localized real estate search engine optimization programs.
"There is a reason we are number one in our niche. Rather than focusing on Florida or South Florida in particular, we have taken real pride in working with anyone, anywhere who has a real estate practice. We are uniquely positioned to extract deals from any market," said Simon Landers of ARMERealty.com.
This means a new real estate service in Rochester NY, will have the best possible real estate SEO professionals available to them as well as a well-established real estate agency in Phoenix AZ. ARMERealty.com works universally with the best in quality real estate SEO technology.
Business is moving to an online environment with more and more people choosing search engines and the digital abilities of the Internet over traditional yellow pages and the like for their real estate needs. If an agent's company or real estate practice is not optimized with the best practices from a real estate SEO professional service, their company or franchise could be missing out on potential customers.
"People move all the time, and not just across town, some move to new states and are looking for a new home or place to live. ARMERealty.com real estate SEO pros have the best tools to help their practice narrow searches to specific zip codes and other particular search strings," said Landers.
Because of rapidly changing information and search engine algorithms, real estate companies must keep their websites and Internet information updated frequently. This requires the use of a real estate SEO pro, like ARMERealty.com.
For more information about ARME Realty.com visit the website or call (727) 459-8841.