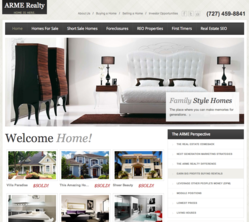 Nationwide (PRWEB) June 17, 2013
Build a real estate SEO website with little effort by initiating the help of ARME Realty.com. The internet has been used as a marketing development tool by many industries over the last decade, but with the growth of the internet and search engines like Yahoo, Google and Bing the real estate industry has begun to see the value of internet advertising. By building a real estate SEO website realtors and brokers alike can market themselves and their businesses with better results than paper advertising and commercial advertising combined.
Today, when individuals begin searching for information about buying or selling a home in a certain area they do so by searching for information online. By typing in information the individual is searching for, like homes for sale in or short sale homes available in and where they live or are looking to live geographically, they are instantly provided with a list of options that fulfill the criteria they are searching for. This information is known in the world of SEO as keywords. By using specific keyword search terms, with thousands of variations, designed specifically to fit the realtor or brokers criteria, traffic related to all of those keywords will be directed to your website with top page ranking on Google.
"ARME Realty is a website development company with other projects outside the real estate market that have been created through the use of the web development toolkit. Real Estate is simply an area of interest, and to be able to use this technology to build a real estate SEO website for realty professionals in need of a solid lead generator just seemed like the perfect fit," says Simon Landers, spokesperson for ARME Realty.
So, realtors and brokers alike, the question is how important to the growth of your business is having a real estate SEO website? For some it may still seem like a waste of time, but there is truth behind the concept that there are more individuals building their own business using the internet and even more individuals doing business online.
"Putting the time and money into building a web presence in today's market is so important to a companies growth. Deciding to build that web presence with ARME Realty is just simply the best choice," says Simon Landers.
If you are interested in learning more about building a real estate SEO website and would like to speak with an ARME Realty agent please call (727) 459-8841.