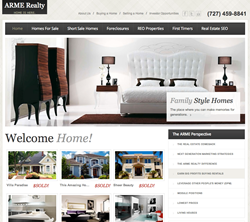 The vast amount of agents in the United States allows for a lot of competition in the market. Being able to give each real estate individual the chance to compete on a higher level is an amazing opportunity
Clearwater, FL (PRWEB) June 21, 2013
ARME Realty has recently released a product that claims to completely revolutionize the way real estate site SEO is developed. Over the last decade, the increase of internet use to search for goods and services has increased dramatically. Internet search engines such as Yahoo and Google can instantaneously produce a directory list of possible matches for whatever goods or services are being requested. Having instant access to such directories has made owning a website and developing an internet presence a necessity for business, both large and small alike.
Simon Landers, spokesperson for ARME Realty, recently announced the recent online demonstration of this unique and ground breaking web development toolkit, and real estate experts are saying that even though they know very little about website development they left there with a clear understanding of what their product does and how it can greatly increase the home sales efforts.
Real estate site SEO is based upon the idea of using articles developed around keywords and phrases to create pages that will build out the website increasing the actual size of the website and increasing its rank as well. Keyword data is compiled by ARME Realty based upon terms and phrases that were actually typed in by individuals searching for real estate information online. This information along with city, state and zip codes for the geographical locations in which the realtor or broker does business increases their visibility online.
"Real estate site SEO is a very interesting area of marketing and advertising development," says Simon Landers. "The vast amount of agents in the United States allows for a lot of competition in the market. Being able to give each real estate individual the chance to compete on a higher level in the real estate industry is an amazing opportunity," continues Simon Landers.
If you would like to learn more about ARME Realty and the SEO services for real estate sites please call (727) 459-8841 and speak with an ARME Realty.com agent.