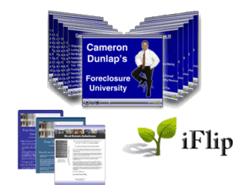 This system is Awesome! I have almost 40 bird dogs, 4 buyers and 3 properties already submitted. And all this in just 1 week of implementing
Salt Lake City, UT (PRWEB) October 27, 2012
Real estate investors are always on the lookout for good real estate software that saves them time and money. In many cases, the right software can literally double, triple and even quadruple sales and income for many investors. The challenge has always been finding the right real estate software that actually works.
Foreclosure University releases new software for investors that was created by an investor. "The goal in creating this software was to provide a way for investors to leverage their time and focus on things that matter most," says Jarad of Foreclosure University. "Too many investors waste valuable time doing the things that don't make them money. Let the software do the busy work."
One of the biggest challenges in being successful and competing in real estate is finding the good deals before the competition. It also makes sense that if the number of deals increase, so should income. Real estate then becomes a numbers game. The problem is then having enough time to find the good deals. That's where the real estate software comes into play.
Investors can use the software to attract bird dogs or house hunters to find deals for them. The investor sets the criteria of exactly what they are looking for. The software then attracts and trains the bird dogs so they know exactly what to look for and it matches the specific criteria that was set.
It's not uncommon to have 100's of these bird dogs working for a single real estate investor. "Currently I have 119 bird dogs here in Omaha alone and more properties coming in than we can handle. It it truly Amazing how well this system works if you work the system," says Omaha investor Richard Kingsbury. This is huge because now the investor has hundreds of these house hunters all looking for properties that meet their criteria.
The software manages all the bird dogs and pays them according to what the investor has approved as a payout. Now the investor can focus on the more important aspects to wholesaling like making the offer to the bank.
Another great feature of this real estate software is building a buyers list. All investors know the importance of building and establishing a buyers list. The software helps investors build a buyers list and gives them access to an existing cash buyer list that has been built and updated monthly over the last 5 years. It's area specific so investors will have an immediate buyers list they can reach out to.
To learn more about this unique real estate software that helps investors do more deals, visit the official website to learn learn more.
"This system is Awesome! I have almost 40 bird dogs, 4 buyers and 3 properties already submitted. And all this in just 1 week of implementing," says real estate investor Robert Morrow.
For those looking to get started immediately and test drive the software click here.