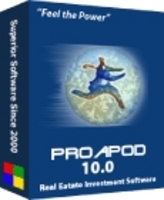 Colleagues who saw my reports continually asked for my spreadsheet
Salem, OR (PRWEB) February 25, 2010
ProAPOD® Real Estate Investment Software, developer of cash flow analysis solutions for agents and investors engaged in real estate investing, has just entered its tenth year as a leading investment software provider, though it was never expected by its founder.
ProAPOD® developer James Kobzeff, then an associate broker and apartment specialist with Prudential Real Estate Professionals in Salem, explains that he originally intended the software for his personal real estate business and officially released ProAPOD® in 2000 only after numerous real estate agents began requesting it.
"Colleagues who saw my reports continually asked for my spreadsheet," Kobzeff says. "So I decided to develop ProAPOD® as an Excel® application that could be distributed and used by others. That's how it all started."
But Kobzeff admits that he never anticipated a market beyond the Salem area because he never fully expected ProAPOD® to be seen by anyone other than local agents and investors--which, of course, has not been the case due to the worldwide web and its power to expose the program to others in cyber-space.
Since its release in 2000, ProAPOD® has been featured in the "Cool Tools" section of REALTOR® Magazine May 2003, used in classrooms at Southwestern College in Kansas, preferred by numerous CCIM designees (a designation awarded by the Commercial Investment Real Estate Institute) along with a host of other real estate professionals and individual investors.
Today, ProAPOD® has customers throughout the United States and beyond, including Canada, China, Jordan, and South Africa.
"I never anticipated it", Kobzeff adds. "But numbers are numbers and real estate is real estate. So I guess I shouldn't be surprised that a real estate investment software program with the quality of ProAPOD can benefit any agent or real estate investor anywhere engaged in real estate investing. Still, I am in awe."
Products:
ProAPOD 6.0 Real Estate Agent Software - our popular rental property analysis and marketing solution for residential agents and others who, perhaps only occasionally, want to work with rental property. Price $149.95
ProAPOD 4.0 Real Estate Investor Software - this is an investment analysis solution for novice, infrequent investors that want to evaluate and compare investment opportunities as well as learn the formulas. Price $199.95
ProAPOD 10.0 Real Estate Investment Software -this is our complete, most robust analysis and marketing solution for those more engaged with real estate investing and serious about making investment property a substantial, ongoing part of their business. Price $279.95
ProAPOD Mortgage Calculator Software - the solution for anyone who wants to make the same mortgage and financial calculations as those found on an HP10 hand-held calculator, only quicker and easier. Price $29.95
Availability:
ProAPOD® software solutions run as an application for Excel under Windows. Licensed users get two permanent downloads along with free updates and technical support for one year.
About:
ProAPOD® is a privately held software company located in Salem, Oregon. James R Kobzeff is the founder and owner.
Contact:
James R Kobzeff, Owner
ProAPOD Real Estate Investment Software
503-949-9034
http://www.proapod.com
###