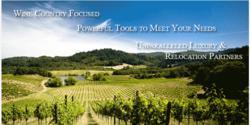 Six months ago, Wine Country Group was formed in order to give buyers and sellers a high end choice
San Francisco, CA (PRWEB) October 07, 2011
The Sonoma Valley real estate three former Santa Rosa and Petaluma offices of Pacific Union have merged with the Wine Country Group by Better Homes and Gardens Real Estate. The merger of these highly experienced and qualified real estate firms brings a new level of service to real estate clients in San Francisco, Berkeley and the Sonoma Valley.
Owned by Coralee Barkela and Suzanne Drace since 2006, the San Francisco real estate Pacific Union offices in Santa Rosa and Petaluma have a total of 37 agents. Ms. Barkela will remain with the company as a top producing agent, and Ms. Drace will remain as the branch manager of both offices.
"Six months ago, Wine Country Group was formed in order to give buyers and sellers a high end choice," says Dougan Jones, managing partner. "Wine Country Group has quietly and steadily attracted top agents to better serve our clients."
Since February of this year, Wine Country Group has grown to 11 offices and 219 real estate agents. Seven offices and 180 agents were added to the company when Frank Howard Allen Sebastopol was merged with the Wine Country Group by Better Homes and Gardens Real Estate in June. The company's network now consists of 40 offices and 2,000 real estate agents throughout Northern California and Northern Nevada.
The Wine Country Group's offices are in Santa Rosa, Petaluma, Sonoma, Healdsburg, Sebastopol, Cloverdale, Bodega Bay, Glen Ellen, Napa and St. Helena. The firm expects to continue to grow its footprint in other Sonoma and Napa County market areas.
For further information about San Francisco, Berkeley and Sonoma real estate agents, contact Cathy Harrington at 925-525-0946 or winecountrygroup.com.
About Better Homes and Gardens Mason-McDuffie Real Estate
The company's heritage began with the founding of Mason-McDuffie Real Estate in 1887. In 2009, the company was named the 19th largest real estate services firm in the nation, and tops in the San Francisco East Bay. The company provides comprehensive solutions to home buyers and sellers, and handled more than 7,300 transactions in 2010, generating $2.9 billion in sales. Better Homes and Gardens Mason-McDuffie Real Estate is independently owned and operated and includes joint ventures with partners J F Finnegan Realtors, Highland Partners in Piedmont and Montclair, Wine Country Group Realtors in the North Bay, and Tri-Valley Realty in Pleasanton-Hopyard and Ruby Hill. The organization is comprised of more than 2,000 sales professionals in 40 offices.
###