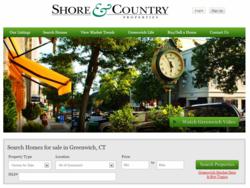 We handpick respected agents who demonstrate the integrity, expertise and personal touch that clients deserve when buying or selling their most valuable assets. - Russell Pruner, Partner at Shore & Country Properties
Riverside, CT (PRWEB) April 12, 2013
Shore and Country Properties, an independent real estate company located in Greenwich, CT, is pleased to announce the launch of their new website. Offering a complete overview of all things Greenwich, as well as the most thorough real estate information on the Internet, the hit count is climbing from buyers and sellers alike.
Visitors not only get up to speed on current listings and market trends, but information about Greenwich that can only be delivered by agents who live and work in Greenwich. Engaging video tours and testimonials, exceptional photographic interfaces, and powerful market statistics on the website offer clients one-stop shopping for everything Greenwich.
Unlike its competitors, many of whom are large, corporate owned companies, Shore and Country is all about the town of Greenwich and the surrounding area, and this is clearly reflected in the new website. The goal of this easy-to-navigate site is not only to showcase up-to-minute information on the constantly changing Greenwich real estate market, but to also provide valuable information about all things Greenwich and introduce visitors to this very unique, forward thinking company.
In addition, Shore and Country Properties will be launching a full social media marketing campaign that promotes the company via Facebook and Twitter. This will be overseen by Social Media Manager, Amy Whitlaw, who has also worked as a full-time agent since 2000. "I'm looking forward to getting the entire company involved in the social media world, as that's where so many of our clients are getting information about our market," says Whitlaw.
To check out the new website, please visit: http://www.shoreandcountryproperties.com.
About the company:
Shore and Country Properties was originally started by Russell Pruner in 1989 as Russell Pruner and Associates. His vision for a company comprised of the town's best full-time real estate professionals. Nancy Healy joined the company as a partner in 1996. Since starting her career in real estate in 1987, Nancy has been one of the town's busiest and well-respected realtors. Recently, her peers voted her one of America's Most Preferred Realtors. The year 2000 brought the addition of two more partners, Joan Epand and Ken Yorke. Each added more talent to the group, from Joan's marketing expertise to Ken's sharp accounting skills and operational abilities.
Both Russ and Nancy have severed multiple times as President of the Greenwich Association of Realtors and the Multiple Listing Service and give their time to work on other committees. As a result, they have a unique understanding of what it takes to run a successful real estate firm. And by carefully selecting only agents who represent the best of Greenwich, Russell Pruner and Associates quickly grew to become the leading independent real estate firm serving 50 square miles of Greenwich and lower Fairfield County. Pruner said, "We handpick respected agents who demonstrate the integrity, expertise and personal touch that clients deserve when buying or selling their most valuable assets."
In 2003, Russell Pruner and Associates became Shore and Country Properties to let consumers know they service every neighborhood from the back country to the shoreline. For the past 12 years, Shore and Country Properties has been the number one real estate company in Greenwich by selling their listings in the fewest number of days (81) and with the highest original list price to sales price at 93.75 percent. They continue to lead the Greenwich market in transactions and dollar volume while providing unparalleled service to their clients. It is their hope that the new website will draw visitors from around the globe to learn about this very dynamic company and this very special town.