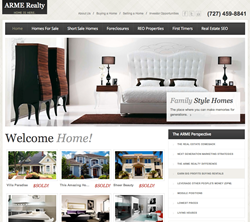 Currently, there are 20 licenses available to real estate professionals in each state and when those licenses are sold out they will be unavailable for a period of a year
Nationwide (PRWEB) June 16, 2013
Real estate video SEO is becoming a hot marketing topic amongst today's real estate professionals. It's no secret that Google favors video content more than most other content, and real estate pros who know the inside strategies of using video for real estate SEO have been reportedly seeing a higher number of homes sold.
To aid in the real estate video SEO trend, ARME Realty.com has released their web development SEO toolkit for real estate web developers nationwide. This cutting edge web development tool for the Joomla platform allows real estate professionals to set some basic parameters, input their Youtube or other embed codes for their videos, and the system will begin to create website pages which will then display the users video and other content. Industry insiders consider this system real estate video SEO at its finest.
"Real estate pros across the country have been testing this method of distributing their videos across thousands of related keywords and have seen their video traffic soar. One such company in Dunedin FL has recently reported 14 closing in one month as a result of using our technology," states Simon Landers. spokesperson for the company.
"This system represents 5 years of development time and is the only system of its kind. The way this system will distribute videos and other content necessary for real estate video SEO is unlike anything on the market today and can drastically change your marketing position from the 5th month on of using our system," continues Mr. Landers.
The overwhelming demand for the system has required ARME Realty.com to currently put a user limit for each state. Currently, there are 20 licenses available to real estate professionals in each state and when those licenses are sold out they will be unavailable for a period of a year. The customer can then renew his license for another year or cancel at the time. The company also offers month to month options.
For more information about ARME Realty.com and their real estate video SEO programs contact a representative today at (727) 459-8841