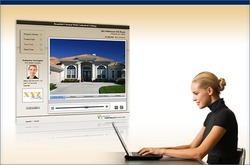 We provide the real estate agent with advanced marketing tools that allow them to distribute their virtual tour throughout the Internet to sites like Google, Realtor.com, Trulia, Oodle and MLS Boards. Agents can also create a video of their tour with a click of the mouse and have that tour automatically uploaded to YouTube.com and Apple's podcast
Hudson Valley, NY (PRWEB) July 30, 2009
How can selling homes lead to building homes for the homeless? That's the challenge that Barbi Bistrowitz, founder and president of VirtuallyShow.com, set for her team. "When I first started my business in 1992, I was only focused on making a profit," states Ms. Bistrowitz. According to Barbi, the recent housing crisis and economic downturn, had her rethink her profit only focus and come up with a business model that could really help families get decent housing. At the same time Ms. Bistrowitz was faced with another challenge, how to deliver the most affordable, yet powerful and easy to use Virtual Tour service in the market for Real Estate agents. Her team came up with the idea of donating 5% of all the membership fees collected by VirtuallyShow.com to the Habitat for Humanity. Barbi was immediately taken with the idea of selling homes leading to building homes for families in need.
Real Estate agents are in need of more exposure for their homes and a better way to capture and maintain the interest of home buyers. "All facts point to the conclusion that a virtual tour is a "must have," states Ms. Bistrowitz. An examination of recent studies supports Ms. Bistrowitz's statement:

In 2008 RIS Media reported that 80% of consumers, which include home buyers, search for information online.
54% of these home buyers, who are searching for their home on Realtor.com, will skip over listings without virtual tours and multiple images. (2006, National Association of Realtors Survey)
79% of repeat buyers and 84% of first time buyers use the Internet to search for a home. (2006, National Association of Realtors Survey)
With VirtuallyShow.com a Real Estate agent can create a custom branded virtual tour in minutes. The resulting tour has a video like feel and sports features like panoramas, high-resolution images, narration, music, maps, community scores, school scores, floor plans and videos. "The online marketing options are what really set us apart from other companies," adds Barbi. "We provide the real estate agent with advanced marketing tools that allow them to distribute their virtual tour throughout the Internet to sites like Google, Realtor.com, Trulia, Oodle and MLS Boards. Agents can also create a video of their tour with a click of the mouse and have that tour automatically uploaded to YouTube.com and Apple's podcast," states Ms. Bistrowitz.
About VirtuallyShow.com
VirtuallyShow.com was founded in 2007 to give agents a break by offering a sophisticated and easy to use 24/7 online self service environment that allows an agent to quickly create a high quality, video like, MLS compliant and branded, feature rich tour. Plus a web page that promotes both the agent and the tour.
If you'd like more information about this topic, or to schedule an interview with Barbi Bistrowitz, please call 800-603-7469.
###