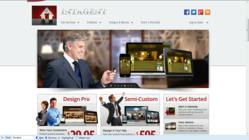 Our talented design team creates custom designed homepage for these websites. We also help you match all of the features of the Intagent platform with the homepage of your website, to give it a customized look. I
Ann Arbor, Michigan (PRWEB) June 27, 2013
Intagent has introduced Semi-custom Website Package priced at $595 for real estate professionals who are looking to add a personal touch to their website. Your website will be designed according to your preferred style and location. You will work with one of our professional web designers and you will be able to communicate through every step of the design process.
The semi-custom website package comes with a whole lot of personalization options. Website owners can use colors and images of their choice. Moreover, they can create a design with moving images. An additional flexibility with graphics & presentation elements will certainly give a more appealing look to the websites.
Talking more about the package, the CEO said, "Our talented design team creates custom designed homepage for these websites. We also help you match all of the features of the Intagent platform with the homepage of your website, to give it a customized look. If you want to do something different from what your competitors are doing, I would suggest that you to spend a little extra and opt for the semi-custom website package. Priced for $595, the package will give your website a look that is completely unique".
The truly advanced realty websites by Intagent have lead capture forms, Intagent plugins, customer relationship management system, email marketing, MLS/IDX compatibility, and custom real estate designed admin system.
Intagent offers the most dynamic realty website solutions to real estate professionals and help them get maximum exposure on the World Wide Web. The real estate web design services firm also offers lead management software, SEO tools, and lead generation tools along with the property web design solutions.
About Intagent
Intagent is a reputable website design, development, and marketing company that provides specialized solutions to real estate professionals. The realtor website templates created by the company have number of features such as plugins, lead capture forms, MLS/IDX compatibility, and customer relationship management system, which prove to be highly beneficial for the real estate companies in establishing the relationships with the potential customers.
Contact Details:
Intagent
3737 Bradford Sq. Dr.
Ann Arbor, Michigan 48103
Phone: (800)209-0740
Website: http://www.intagent.com/