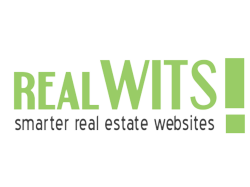 We all know a picture is worth a thousand words. When masterfully showcasing real estate listings, an image provides home buyers what they want, a visually appealing method to view and explore properties for sale. - Randi Thornton, realWITS.com Founder
Minneaplis, MN (PRWEB) June 03, 2013
realWITS.com believes, running a profitable real estate company today can be challenging… having access to a smarter real estate company website to enhance lucrativeness should not be.
What do the Most Popular Websites for Real Estate have in Common?
They all take advantage of a modern real estate website design that leverages visual intriguing imagery. Real estate companies do not need to be one of the online giants such as Zillow, Trulia, Realtor (dot) com, Yahoo Real Estate or Homes (dot) com to achieve the same online financial rewarding results.
When a real estate company website design appeals to property buyers and sellers, it:

Stops prospects from learning about the competition: keeping visitors on the website, makes it less likely the website visitor will conduct anther search for the information they desire.
Keeps home buyers and sellers coming back: buyers and sellers will bookmark and return to the website more frequently.
Promotes viral sharing and marketing: visitors are more apt to share and talk about their experiences for additional online reach and exposure.
Captures quality sales leads for agents: future and present day home buyers and sellers will save searches and request auto email property alerts while the company captures and tracks their online activities.
Dominate their local online marketplace: When visitors return more often, bookmark the website, share and talk about the website, the website becomes the local "go to" resource for home buyers and sellers.
In addition to a captivating design, other key features that create pecuniary opportunities for company growth include a website that embraces:
built- in real estate SEO
regular technology updates
broker has control
lead producing call to actions
Real Estate Brokers Tend to Struggle with Change. realWITS Gets That.
realWITS admires real estate brokers, but it has been our experience brokers tend to resist change, say Thornton, realWITS founder.
Time and again when discussing website platforms opportunities with brokers or real estate company decision makers, realWITS has repeatedly heard these 3 similar responses:
"I don't know what our agents will think" or
"We know our website needs an overhaul, but we don't have time now to change" or
"The real estate industry has been hit hard in the last few years and I cannot justify the additional cost."
realWITS understands these could appear to be valid obstacles,however realWITS strongly believes the opportunities for a real estate company to flourish online are enormous and procrastination could cost more than making a change. Effective real estate online marketing begins with a presence that meets the demands of today's internet savvy buyers and sellers as well as utilizes built-in real estate SEO best practices.
"Smart" Real Estate Company Website Qualities
Attracts top producing agents.
Saves the company time.
Is an investment, not a cost.
realWITS believes they have developed a "Smarter" company real estate website platform and they want to prove it.
According to its founder, Randi Thornton launched realWITS to fill the void by developing a proprietary service alternative to often more expensive solutions that lacked the basic functionality for a broker to grow their online business. To validate these traits superiority, realWITS has chosen to offer this onetime giveaway to publicly document the results and help educate brokers.
Giveaway Details
A realWITS company real estate website will be designed and developed with all the bells and whistles realWITS mashes together to produce its smarter websites for real estate companies. They execute a brand-new fully functional real estate company website to the winner.
The winning real estate company must agree to allow realWITS to publicly benchmark and track analytics and data over the course of 6 months, the free website promotional period.
The companies objective is to deliver a free turn-key real estate website that transforms under-utilized technologies and produce a website that becomes the brokers number one business asset.
realWITS says, all real estate companies who have previously resisted change, hesitated to upgrade their website, now is the time to find out what all of the hype is about.
All nominations and entries must be completed no later than midnight on Thursday, July 20th, 2013.
Full giveaway details here>>> http://realwits.com/free-real-estate-company-website-give-away
Solving Real-World Broker Website Problems with realWITS Solutions
All of Randi Thornton's considerable experience in real estate, mortgage lending, website development, ancillary real estate services and SEO techniques and strategies has played a major role in the development of her latest turnkey project, realWITS.com. Thornton's state-of-the-art consulting company helps real estate brokers understand how to create more responsive websites, get real benefits from them, learn how to attract quality links, and solve common real estate company website problems.
Thornton offers these observations about her newest company: "Over the past 4 years, while providing real estate SEO consulting services for some of the most industry respected companies, I learned that real estate website development vendors seldom understand everything it takes to create a popular real estate destination."
"A website is a living, breathing thing that needs to grow and evolve to stay current while seamlessly incorporating SEO best practices."
"A well thought out design makes a good start, but the Internet is constantly changing and what works today might not work tomorrow. Website owners need to analyze trends, counter their competitors' efforts, and meet the unique challenges that online real estate marketing brings to the table."
realWITS helps provide leverage for real estate brokers and companies who struggle to get found online, captivate an audience and increase profitability from their website and online marketing efforts, due to most existing solutions.
Thornton believes that agencies and companies deserve better breaks, and helping real estate professionals design better websites and optimize their efforts to attract clients provide essential and in-demand benefits for the real estate industry.
"People don't always know what they don't know," says Thornton. realWITS is designed to reduce brokers risk and increase profitability with their company real estate website.