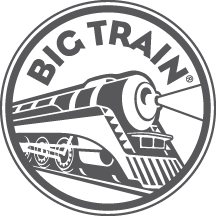 Big Train is well-positioned to help foodservice operators capture a good share of the business.
(PRWEB) June 27, 2011
Big Train, a leading manufacturer and distributor of premium drink mixes, announced its new "Summer Smoothie Spectacular" promotion targeting the specialty beverage and foodservice industries.
To celebrate the start of summer, Big Train launched the promotion to generate some excitement for its full line of smoothie related products and services. As part of the promotion, Big Train will be giving away 8 new Blendtec® EZ™ Commercial blenders, 10 cases of free smoothie mix products, and free samples for qualified foodservice businesses.
Big Train's real fruit smoothie flavors include: Strawberry Sensation; Lemon Cooler (Mix both to create strawberry lemonade frappe); Mango Madness; Banana, Wildberry; Pineapple Coconut; Passion Orange Guava; Peach Pizzazz; Pomegranate Blueberry; and Cranberry Raspberry.
"I combine the Mango and Strawberry flavored Big Train smoothie drinks and it has become a customer favorite as well", according to Patsy Lato, Director at Wilkinson's Tea & Coffee Emporium in Pensacola, Florida. "They are so rich and comforting on these horribly humid days we've been having."
To enter the giveaway, foodservice companies can participate by registering at http://www.bigtrain.com/real-fruit-smoothies. On this page, Big Train highlights its full line of Big Train Smoothie Blast Concentrate, all of which are made with real fruit and/or juice and are rich with antioxidants and vitamin C. Big Train's Add-A-Boost™ virtually flavorless supplements are profiled as are Big Train's Vanilla Smoothie "Just add fruit" Mixes which come in regular and No-Sugar-Added options. Big Train's long running commercial Blender program offers a great variety of blenders and comes with 2 pitchers and 3 free cases of Big Train Smoothie Mix concentrate.
"With the growing popularity of real fruit smoothies in the marketplace, Big Train is well-positioned to help foodservice operators capture a good share of the business" says Robyn Hawkins, CEO of Big Train. "With 10 real fruit flavors, great shelf life, and easy-to-make products, our smoothie line provides that delicious taste our customers expect, and a great product to help our customers' bottom line."
The promotion will expire on August 15, 2011. For more information on Big Train's Summer Smoothie Spectacular Promotion, please go to http://www.bigtrain.com/real-fruit-smoothies or contact Big Train at http://www.BigTrain.com or call (800) BIG TRAIN (244-8724).
About Big Train, Inc.
Founded in 1991, Big Train has grown to be a leading manufacturer and distributor of premium powdered and liquid concentrate beverage mixes serving the specialty coffee, foodservice and retail industries in the US and abroad. Headquartered in Lake Forest, California with a manufacturing facility in Rancho Santa Margarita, California, Big Train is known for high quality beverage solutions that are great tasting and easy to prepare. Big Train offers a wide array of products including blended ice coffees, coffee-free blended crèmes, chai teas, real fruit smoothies, kids' beverages, hot cocoas (hot chocolates), powdered soft serve, low carb beverages and flavored syrups to more than 20,000 customers including independent and small chain coffeehouses, bakeries, foodservice operators and its extensive international distributor network. For more information, visit http://www.bigtrain.com or call 800-BIG-TRAIN (that's 800-244-8724). Or follow @BigTrain on twitter http://www.twitter.com/bigtrain or like Big Train on Facebook at http://www.facebook.com/bigtrain.
###