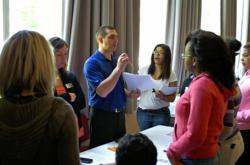 Pittsburgh, PA (PRWEB) April 16, 2013
The Center for Financial and Consumer Outreach at Penn State Erie, The Behrend College, is hosting its third annual High School Symposium on Financial Literacy and College Success. Hundreds of students will participate in the National Financial Educators Council's hand-on Real Money Experience program.
This event is taking place May 15 and May 16 at Penn State Erie, The Behrend College. The event is open to schools, nonprofit organizations and other groups that serve high school-age students. Contact the Center for Financial and Consumer Outreach at 814-898-6553 to register your organization.
"They're going to encounter several different aspects of life skills throughout this event," said Erica Jackson, director for Penn State Behrend's Center for Financial and Consumer Outreach. "What insurance is, what credit is, what auto is. And, they're really able to mesh it all together and learn what things they're going to have to deal with when they become an adult. So, this event provides a great foundation, starting point, for them to be able to understand the basics of a lot of these concepts."
It is anticipated that this year's Real Money Experience event will impact over 1,000 students during the annual High School Symposium. The CFCO also offers financial education materials, events and promotions that serve hundreds of organizations across Pennsylvania and the tri-state area throughout the year.
The Center for Financial and Consumer Outreach (CFCO) at Penn State Erie, The Behrend College, is an outreach program of the Sam and Irene Black School of Business at Penn State Behrend. The CFCO's primary purpose is to deliver educational outreach-based programming focused on personal money management skills to students in middle school through college. The CFCO's efforts have helped more than 25,000 individuals acquire skills to earn a living, achieve self-sufficiency and improve quality of life.
The National Financial Educators Council revolutionizes the financial literacy industry by delivering comprehensive campaigns to the global community. The NFEC is widely recognized for creating high-profile financial literacy initiatives that span all areas of personal finance. These campaigns are designed to improve community outcomes and raise awareness for the financial literacy movement. The NFEC mission is to create a world where people are informed to make qualified financial decisions that improve their lives, the lives of their loved ones, and the lives of people they influence around the globe.