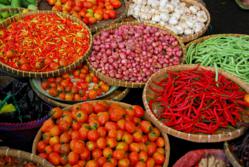 What I love about food tours is that they also allow the traveler to delve deeper into a destination as they visit more unknown and obscure spots
Bangkok, Thailand (PRWEB) August 24, 2012
To taste the traditional cuisine of a country is to gain deeper insight into its culture, whether dining in a Michelin-starred restaurant or at a street-side stall. Giving foodies an authentic taste of Asia, Backyard Travel now offers culinary trips in Laos, Cambodia and Vietnam, where travelers not only get to sample the best foods of Indochina, they get to learn first-hand how to prepare traditional meals.
A country's identity is closely bound to its cuisine and learning about national dishes, local produce and cooking methods is one of the most enjoyable ways to gain real understanding of a destination. The Culinary Journeys tour in Vietnam includes fine dining in Ho Chi Min City, royal cuisine in Hue, insightful talks by food experts and an amazing street-food journey that includes 36 different Vietnamese delicacies!
The Khmer Cuisine and Crafts itinerary in Cambodia includes activities that are delicious, educational and beneficial to local communities. Travelers learn how to prepare traditional Khmer meals as well as talks from a top Cambodian chef. One restaurant on the itinerary – Le Lotus Blanc – employs former street kids, giving them skills in the hospitality industry and making them self-sufficient.
French colonial cuisine in Indochina is further explored in the Laos in Style and Tradition tour, a 6-day/5-night program through Luang Prabang and Vientiane. Travelers get to dine in the cities' top spots, including Makphet Restaurant, supporting underprivileged children and families in need. This trip also includes a family-cooked meal in a local home, and village tours where travelers can learn about the traditional handicrafts of Laos.
"Why take a culinary tour of Asia?" says Backyard Travel's Product & Operations Director Maeve Nolan. "Food and travel go hand in hand and whenever you travel to a new destination, whatever new flavors you discover rank pretty high on your memories from your visit. Naturally, culinary tours focus on food, but travelers get to see the highlights of each destination, as well. What I love about food tours is that they also allow the traveler to delve deeper into a destination as they visit more unknown and obscure spots."
All tours with Backyard Travel are private and can be customized to meet the individual traveler's needs. See the full range of tailor-made tours here.
ABOUT BACKYARD TRAVEL:
Bangkok based Backyard Travel is an online travel company specializing in tailor made tours to Vietnam, Thailand, Cambodia, Laos, Myanmar, Indonesia and Japan. For more information about Backyard Travel, visit http://www.backyardtravel.com. See their Facebook page facebook.com/BackyardTravel.