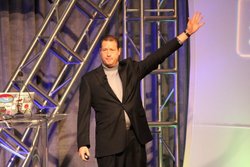 Gone are the days when you could plan out your marketing and public relations programs well in advance and release them on your timetable.
Lanham, MD (PRWEB) October 8, 2010
"Wake up, its revolution time!" wrote David Meerman Scott in his new book Real-Time Marketing & PR. "Gone are the days when you could plan out your marketing and public relations programs well in advance and release them on your timetable. It's a real-time world now, and if you're not engaged, then you're on your way to marketplace irrelevance."
Indeed on the heels of social media, the world is operating in "real time" which brings both new challenges and new opportunities. This is why Vocus (NASDAQ: VOCS) is hosting a free Webinar with the person who literally wrote the book on the concept.
On, Tuesday, October 12th, at 11.30 a.m. ET, David Meerman Scott will show you how to promote, protect and build your brand in "Real-Time." On this Webinar you'll learn how to:

Monitor and react to what matters, when it matters.
React and respond to sentiment and buying signals by increasing your interaction to build more rapport with your customers
Develop a culture of tact and speed throughout your organization
Generate media interest through personal contact and relevant content
Shape and influence stories AS they are being written.
To register for the Webinar, or for more information, please click on the following link: http://tinyurl.com/2d5zs4r
About Vocus
Vocus, Inc. (NASDAQ: VOCS) is a leading provider of on-demand software for public relations management. Our web-based software suite helps organizations of all sizes to fundamentally change the way they communicate with both the media and the public, optimizing their public relations and increasing their ability to measure its impact. Our on-demand software addresses the critical functions of public relations including media relations, news distribution and news monitoring. We deliver our solutions over the Internet using a secure, scalable application and system architecture, which allows our customers to eliminate expensive up-front hardware and software costs and to quickly deploy and adopt our on-demand software. Vocus is used by more than 7,100 organizations worldwide and is available in seven languages. Vocus is based in Lanham, MD with offices in North America, Europe and Asia. For more information, please visit http://www.vocus.com or call (800) 345-5572.
This release contains "forward-looking" statements that are made pursuant to the Safe Harbor provisions of the Private Securities Litigation Reform Act of 1995. These are statements that are predictive in nature, that depend upon or refer to future events or conditions, or that include words such as "may," "will," "expects," "projects," "anticipates," "estimates," "believes," "intends," "plans," "should," "seeks," and similar expressions. This press release contains forward-looking statements relating to, among other things, Vocus' expectations and assumptions concerning future financial performance. Forward-looking statements involve known and unknown risks and uncertainties that may cause actual future results to differ materially from those projected or contemplated in the forward-looking statements. Forward-looking statements may be significantly impacted by certain risks and uncertainties described in Vocus' filings with the Securities and Exchange Commission.
The risks and uncertainties referred to above include, but are not limited to, risks associated with possible fluctuations in our operating results and rate of growth, our history of operating losses, interruptions or delays in our service or our Web hosting, our business model, breach of our security measures, the emerging market in which we operate, our relatively limited operating history, our ability to hire, retain and motivate our employees and manage our growth, competition, our ability to continue to release and gain customer acceptance of new and improved versions of our service, successful customer deployment and utilization of our services, fluctuations in the number of shares outstanding, our ability to integrate acquisitions, foreign currency exchange rates and interest rates.
# # #