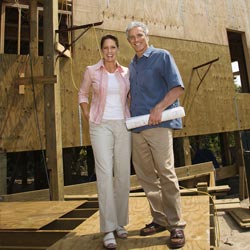 Buying a home is the biggest single financial outlay you will ever make in your life
(PRWEB) July 08, 2008
Calgary, AB (PRWEB) July 8, 2008 -- Professor's House -- http://www.professorshouse.com -- the one-stop website covering homes, relationships, children, pets, cooking and more -- is delighted to announce the latest addition to the site. The new Real Estate section will offer expert advice and a knowledge base on topics such as buying a house, how to select a home builder, how to co-sign for a mortgage and more. The information will be provided by a home building expert whose services Professor's House has attained.
Figures from the Canadian Real Estate Association (CREA) show that house prices rose by an average 4% year-over-year in April 2008. Additionally, home listings rose by 1.2% overall from March into April - it's these figures that make the new Real Estate section of Professor's House such a timely and valuable information portal. Buyers can find out what to look for, what pitfalls to avoid and how to value a house, while sellers can learn about tricks of the trade to improve their chances of selling their property as close to the asking price as possible.
"Buying a home is the biggest single financial outlay you will ever make in your life," says David Beart, owner of Professor's House. "Because of this, even the simplest of sales can be stressful and confusing, and this is why we have introduced the Real Estate section. Regardless of whether you're looking for your first home or selling another one, you will find our real estate section is full of useful information on buying or selling a house."
The information available to homebuyers and homeowners is extensive yet clearly laid out. The expertise offered by the Professor's House home builder provides visitors with an insider's view of the most common questions:

Buying tips for the first time buyer
Buying a House
Benefits of using a real estate agent
Financing a second home
The section will also offer prevention advice on the growing threat of home invasion - explaining what home invasion is, who is at risk and how to prevent it. Combined with a Frequently Asked Questions section and a Family Forum for users to share stories and advice, the new Real Estate section will add value to the already beneficial Professor's House website.
About Professor's House
The Professor's House website is a one-stop solution for all your everyday questions. Covering homes, relationships, children, pets, dog information, cooking and more, and with an active forum where members can share tips and advice, it's an invaluable source of information for people from all walks of life.
Further details about Professor's House are available at http://www.professorshouse.com
###