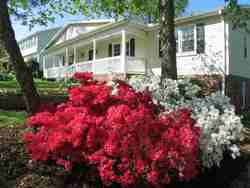 Myrtle Beach, SC (PRWEB) April 30, 2009
Late spring and early summer is glorious in Myrtle Beach, and judging from the restaurant lines and traffic, this may be one of the best years yet. With less rain than usual, Myrtle Beach golf courses have been in full swing. Our northern neighbors never fail to be charmed by the gorgeous weather, and this time of year inevitably brings a surge of retirees looking to move south - a surge that our beleaguered real estate agents will appreciate.
Many of our better restaurants have an hour or more wait already, which is unusual this early in the year. While groups of golfers can be found in all of them, there is a noticeable number of "baby boomer" couples filling the seats as well, a result of the numerous vacation condos that were purchased during the real estate rush several years ago. As each week passes, vacationers replace owners, and summer brings the tourist season in full force. Owners use the rental income to pay the bills, and hopefully real estate sales will change from foreclosure hunters to buyers looking for the perfect vacation resort. All in all, 2009 promises to be a banner year for Myrtle Beach real estate!
Las Vegas, NV - Summer started heating up early this year in Vegas, and we don't mean temperature wise! March statistics for Las Vegas real estate sales showed an incredible 80% increase over last year's sales during the same time period. Prices are affordable for the first time in years, and many are taking advantage of the $8000 first time homebuyer tax credit.
Those buyers have some stiff competition though: Las Vegas has been named one of the top six undervalued markets in the country, and investors are once more closing in. Single family homes in beautiful neighborhoods that sold three years ago for well over $300k are now priced in the $150k to $170k range, and those listings are generating crazy multiple offer scenarios reminiscent of the 2003 and 2004 boom years.
But the STEALS are in the Las Vegas luxury homes segment. Incredible estates in elite neighborhoods and fully furnished high rise condos in Trump Towers on the Strip are selling for literally 30 to 50 cents on the dollar. It's not too late to buy a townhome in Lake Las Vegas that originally sold at $850k for under $200k with superb golf and lake views!
Greenville, SC - Greenville is a city that is true to its name especially in Spring. The incredible rain this past winter helped the Upstate to spring its glorious colors with azaleas, dogwoods, clematis and more blooming everywhere. The world renowned golf courses are looking sharp with new cut green grass and Greenville SC homes are starting to sell. We have seen an increase in the number of people looking for new homes since January of this year.
It is no wonder, with the stability of the Greenville SC real estate market influenced in part by the business environment. Greenville was rated the top North American City of less than 100,000 in population for business expansion and prospects of economic development by FDI Magazine, a "foreign direct investment (FDI) magazine. Even during these tough economic times the Greenville market's home values have held steady and even appreciated 2.8% according to Zillow's January Home value report. Forbes.com considers Greenville as one of the best places to weather an economic downturn, number five on their list. Money magazine predicts Greenville will be one of the areas recovering first from the "Great Housing Paralysis of 2009" as they are calling our current U.S. markets.
Los Angeles, CA - The spring market for Los Angeles real estate has started to blossom! Real estate agents report that open houses are teeming with potential home buyers who are expressing optimism about the opportunities in today's housing market. What makes this year different is that this real estate market is heavily weighted in distressed properties. With California ranking third in the foreclosure rate nationwide, buyers are finding favorable prices on foreclosures, short sales and bank-owned properties. Agents report that multiple offers on these distressed properties are commonplace, with actual sales prices often going for more than the list price within days of coming on the market. This is frustrating home buyers, who are facing stiff buying competition in many price ranges.
With 50 year record-low interest rates and government incentive programs, many home buyers find that their mortgage payment will be less than their current rental amount. Investors who are feeling more comfortable about their personal finances are gradually returning to the real estate market. And, with affordable housing available, many are expecting that the spring activity levels of Southern California real estate will continue into the summer months.
Sarasota, FL - Annette Smith, Realtor, and Broker John Allen, of Allen Real Estate Services, Inc. report that a successful spring season is winding up for Sarasota Florida real estate sales. University Park, an award winning Sarasota Golf community, saw intense buyer activity as well as builder deals and affordable homes in the Lakewood Ranch area. The luxury golf course community of the Oaks was active too.
University Park is ranked as one of the Florida's top golf course communities and its awards include "Best Community Design in America". Residents of University Park experience a resort lifestyle in this golf community with access to 27 holes on its championship golf course. The amenities were on this season's wishlist for baby boomer retirees desiring to relocate to a Sarasota golf course home. More than 80 golf courses await these real estate buyers as well as the white sands of the Gulf of Mexico for those who love beach, fishing, wildlife and natural surroundings. Sarasota's sunsets are sensational too!
Those interested in real estate in these areas should contact the authors below:
Richard Brooks
Condolux Real Estate Sales
311 17th Ave South
North Myrtle Beach, SC 29582
(843) 333-0470
Diann Tonnesen
Prudential Americana Group Realtors
871 Coronado Center
Henderson, NV 89052
(702) 985-7654
Lee Cunningham
Re/Max Realty Professionals
600 Independence Boulevard
Greenville, SC 29615
(864) 679-0707
Fran and Rowena
Dilbeck Realtors GMAC
1030 Foothill Blvd
La Canada, CA 91011
(818) 952-0077
Annette Ashley Smith
Allen Real Estate Services, Inc.
7131 Curtis Avenue, Suite 1
Sarasota, FL 34231
(941) 504-3922
###