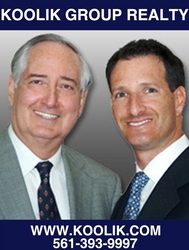 The dollar is still very weak compared to several currencies around the globe. International investors are seeing the US real estate market as a great place to invest again. Our office has been showing luxury real estate property listings to people from South America, London, Germany and more
Boca Raton, FL (PRWEB) September 22, 2009
Koolik Group Realty, a leader in South Florida luxury real estate properties, is announcing news that the demand from International buyers has increased again. This is great news for the housing market in South Florida as home prices have stopped dropping by double digits. Realtors have been out showing visitors listings of real estate properties from Miami-Dade to Palm Beach County.
Koolik Group Realty specializes in the sale of luxury real estate properties in South Florida. International buyers have been looking at listings of homes in Palm Beach County in communities such as Woodfield Country Club in Boca Raton along with other luxury communities in Delray Beach and Highland Beach. Realtors are taking buyers around more frequently and get calls for second and third showings of homes. With the increase in this demand, the real estate company is seeing an increase in closings month over month.
"The dollar is still very weak compared to several currencies around the globe. International investors are seeing the US real estate market as a great place to invest again. Our office has been showing luxury real estate property listings to people from South America, London, Germany and more," said Elliot Koolik, CEO of Koolik Group Realty. "Our realtors are helping people find primary homes, secondary homes as well as vacation homes.
About Koolik Group Realty
Koolik Group Realty are recognized as leaders in Boca Raton luxury real estate agents specializing in property listings for communities such as Woodfield Country Club, The Oaks, St. Andrews and others. While the Koolik Group realtors are active in all of Palm Beach County, they focus on Boca Raton, Delray Beach and Highland Beach. The team has sold over $400 million dollars in real estate by offering their clients a unique marketing plan for their home and an unparalleled level of customer service.
###