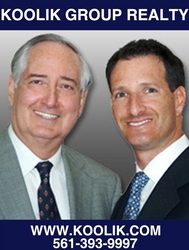 Boca Raton, FL (PRWEB) October 15, 2009
Koolik Group Realty, one of south Florida's top real estate companies, is publishing five very important steps involved with buying your first home. As the real estate market for homes picks up again, there are several issues home buyers must made aware of.
Understand your finances - make sure you are on track with how much you have and what you are willing to spend.
Know the costs upfront - Some banks may require putting down 20% while others may require you to pay closing costs up front.
The Right Loan - With so many hybrid mortgage loans, be sure to get one that fits your budget without over extending yourself. Find a good mortgage calculator to help determine what your monthly payments could be.
Get Pre-Approved - Being pre approved will help show the seller you're interested and will cut down on the time it takes to close on the new mortgage.
Home Inspection - You are going to want an independent inspection done on the home to look for any hidden problems. This also gives you an opportunity to learn the home and could prevent you from buying more than you expected.
About Koolik Group Realty:
Koolik Group Realty are recognized as leaders as one of the top Boca Raton luxury real estate companies specializing in property listings for communities such as Woodfield Country Club, The Oaks, St. Andrews and others. While the Koolik Group realtors are active in all of Palm Beach County, they focus on Boca Raton, Delray Beach and Highland Beach. The team has sold over $400 million dollars in real estate by offering their clients a unique marketing plan for their home and an unparalleled level of customer service. For more information about the group, please visit http://koolik.com.
###