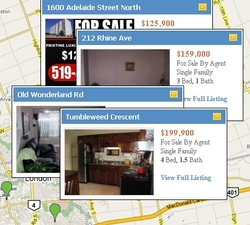 80% of all home buyers used the Internet as an information source
Toronto, ON (PRWEB) January 7, 2008
Banzza.com launched a free Canadian real estate listing service to make professional property listing tools more accessible and user-friendly. Banzza provides property listings and resources to serve buyers, sellers, renters, and real estate agents.
Banzza was developed by Andrew Carrothers and Leon Apel--two 4th year University of Western Ontario students from London, Ontario--in response to growing demand from Canadians for better real estate information. The importance of using a quality, online marketing effort can be supported by the 2006 National Association of REALTORS® Profile of Home Buyers and Sellers, which reports that "80% of all home buyers used the Internet as an information source". Mr. Apel claims that the "simple, easy to use interface helps people find, list and manage properties for sale or rent in a way previously not available."
As stated on the About Banzza Real Estate page, Banzza aims to provide resources and intuitive tools to help Canadians sell or rent out their property with professional online real estate listings. For property owners and/or real estate agents listing their properties, they can now manage multiple listings with their account, track and save their favourite listings, and promote their listings online with Banzza's marketing tools. Banzza helps sellers to maximize their real estate's exposure through detailed listings, photos and other various marketing tools. The basic listing is completely free and renewable until a seller's listing is sold or rented out.
Likewise, property buyers and renters can now manage their favourite properties, find properties with advanced search features, promote their unique property web address online, or contact property owners through their preferred means. In addition, Canadians can now taking advantage of search features and web 2.0 innovations such as Google Maps™. This allows people searching homes for sale or rent in a particular region to find properties displayed on a map interface. Further, you can filter listings by your preferred criteria (eg. number of bedrooms) to find properties that match your specific needs and your results will display on both the map and text results.
When asked what Banzza means, Mr. Apel states that "Banzza is a funky sounding word with no inherent meaning. The 'b' letter was chosen because phonologically, according to lexicon research, respondents rate the 'b' sound as most strongly suggesting relaxation. Creating a relaxing, smooth transaction is one of our goals, so an interesting, quick-to-pronounce word was chosen to symbolize our goal of making you feel more at ease during one of your most important decisions."
As the Banzza community continues to grow and expand its service offerings, the developers will be responding to feedback from Canadians to improve the effectiveness of its services. For now, the free property listings service continues to attract new Canadian real estate listings across Canada.
In particular, Banzza's homes for sale and homes for rent listings are growing daily as Canadians continue to list their properties for free.
Further, resources and web 2.0 real estate marketing tools for real estate agents are helping real estate agents grow their businesses. Realtors are using Banzza to receive more exposure for their clients listings and themselves.
For further press or media inquiries, please contact Banzza's team by visiting the website or sending an email to info(at)banzza.com.
###