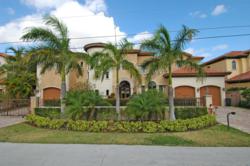 Recreating the American Dream of Home Ownership for All
Miami, FL (PRWEB) February 11, 2012
Real estate brokerage RealBidWinner.com, LLC announced the introduction of its http://www.realbidwinner.com real estate auction website for both residential and commercial property.
Utilizing a patent pending, hybrid auction engine, properties on the website may be auctioned for as low as $50.00US. All users are required to register and pay a onetime $25.00US account setup fee prior to participating in an auction.
Registered members can search and review detailed property information that includes extensive property information and description, including tax history, photos, and virtual tour. Once the member finds a property that interests them, they may register for the auction by paying a low auction registration fee. For example, the auction registration fee for a property with an estimated market value of $100,000US is only $50.00US.
Each auction will begin 72 hours after the minimum number of bidders register. Bidders only enter one (1) bid per click. Each bid is valued at $1.00US. The auction winner is the last person to bid when the auction timer hits zero (0). A unique feature of the auction site is that if you are not the winner, then the bids clicked during the live auction will be credited back to your bidding account.
Realbidwinner.com real estate broker Kathleen Kearns states that the auction site was developed "to once again make home ownership accessible to all while eliminating the need to find a source for a mortgage". Kearns goes on to say that it has become difficult for Buyers to qualify for a loan, thereby eliminating the Buyer's ability to purchase a home. "We believe Realbidwinner.com will remove this obstacle to home ownership and will actually help revitalize cities and states currently struggling to cope with declining tax revenues".
Realbidwinner.com, LLC is a private company formed by a group of entrepreneurs with extensive real estate, finance and business experience who believe that the US housing market must be recreated to allow the dream of home ownership to be achievable for all.
###