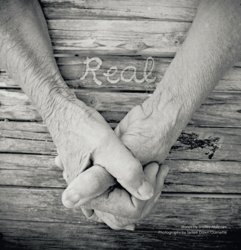 "Each story holds the individual in an atmosphere of equality," says Malcolm. "Beauty and status seem to define our society - these stories and images enable people's real life stories to shine through."
San Francisco, CA (Vocus/PRWEB) April 13, 2011
Stereotypes, celebrities and status define our nation. But what if we removed these labels and all became equal?
Shelley Malcolm, chapel owner and dental hygienist, remarkably captures the authentic stories of over sixty individuals from diverse backgrounds in the new photography and nonfiction book, Real. With photographs by Terilee Dawn Ouimette, this book showcases captivating images of each individual's hands with a brief but unique life story.
Malcolm utilized images of hands to focus on the value and beauty of authenticity, perseverance and devotion.
"Each story holds the individual in an atmosphere of equality," says Malcolm. "Beauty and status seem to define our society - these stories and images enable people's real life stories to shine through."
From a homeless woman and professional baseball player to an interment camp survivor and a piercing artist, each photograph of the hands visually encompasses diverse life stories. With every image, an inspirational biography alongside it provides inspiration for courage, hope, renewed dreams, love and more.
"People can feel more connected to photographs of hands rather than faces," says Ouimette. "There is a little bit of mystery to each one – allowing the reader to visually connect with the inspiring story."
Confronting the importance of status and beauty in our society, Real honestly unveils the life stories of remarkable individuals through moving images and hopeful stories.
"In this time of economic change, these images and stories offer inspiration for a better future," says Malcolm. "A struggle exists between media and reality. Real removes those labels we see everyday with the anonymity and authenticity of each person's hands."
Real
By Shelley Malcolm
ISBN 9781452056715
Paperback 8.5x8.5 Retail price $29.99
Available online http://www.amazon.com and http://www.barnesandnoble.com
About the author:
Shelley Malcolm resides in Shell Beach, California with her husband and has four adult children. Professionally, she co-owns and manages La Perla del Mar Chapel, is a dentist hygienist and occasionally works as set design artist. Her extensive contributions to the community have earned her the honor of Pismo Beach Citizen of Year for 2010. The efforts include Director of Prayer Quilt Ministry, and participation in fundraisers for the arts and various non-profits including ALS, Alzheimers Association and Rancho del Los Animales. She graduated from University of Southern California with a degree in dental hygiene. Malcolm's hobbies include art, travel, various musical instruments, outdoor activities and writing. For more information about Real please visit http://www.marthamartha.net or http://www.laperladelmarchapel.com.
About the photographer:
Terilee Dawn Ouimette currently resides in Shell Beach, California with her husband. She has been a professional photographer for four years with her company, Terilee Dawn Photography photographing weddings, families and newborns. Ouimette's hobbies include art, photography, crafting, reading, and travel. For more information about her work please visit http://www.terileedawn.com
EDITORS: For review copies or interview requests, contact:
Megan Giannini
Phone: 317-602-7137
E-Mail: mgiannini(at)bohisenpr(dot)com
(When requesting a review copy, please provide a street address.)
###