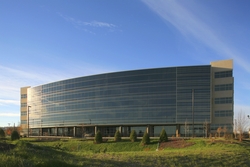 Rutherfoord is delighted to make 1000 Continental its regional headquarters
Philadelphia, Pa. (Vocus) September 17, 2009
BPG Properties, Ltd., one of the nation's leading private equity real estate fund managers, announced that Thomas Rutherfoord, Inc. (Rutherfoord) has signed a lease for 3,238 square feet of space at 1000 Continental Drive, a 200,000 square foot, Class A office building in King of Prussia, Pennsylvania.
Rutherfoord is a Virginia-based risk management and insurance brokerage firm with over 300 employees in nine offices. Rutherfoord ranks 11th in the Insurance Journal Top 100 listing of the nation's largest privately held brokers. The firm is relocating its Tri-State regional office from Exton to 1000 Continental. Occupancy is slated for October 2009.
"We are pleased that Rutherfoord has chosen to relocate and expand at 1000 Continental," commented Neil Gallagher, vice president of BPG who negotiated the transaction on behalf of the owner. "As one of the only LEED™ Silver certified buildings in the region, we recognize the value of providing high performance buildings for our tenants that offer both cost effective and socially responsible solutions."
"Rutherfoord is delighted to make 1000 Continental its regional headquarters," commented Joseph J. Cathcart, vice president and division manager of the Tri-State division of Rutherfoord. "As an insurance broker that is working to become carbon neutral, we feel that 1000 Continental is the perfect fit for our business. It was important for us to find a location that not only is geographic appropriate for reaching our clients in the Tri-State region but also has the superior services and amenities that will allow us to be environmentally conscious as well as keep our costs down."
The landlord was represented by Jeffrey Mack, Peter Strickler and Adam Shute of GVA Smith Mack. Rutherfoord was represented by Neil Brazitis of GVA Smith Mack.
1000 Continental is conveniently located at the highly traveled intersection of Routes 202, 422 and Interstate 76 in King of Prussia. The six story building offers landmark visibility and superior access to the region's major highways, retail and dining centers and far reaching suburban labor pool. It is the only new building in the market that has been awarded LEED™ Silver certification by the USGBC. Additional features include an exterior of polished granite accents and a distinctive curved glass exterior on the north elevation, a two-story lobby with granite flooring, 9' finished ceiling heights with extensive floor-to-ceiling glass, fully engineered HVAC with tenant controlled hours of operation. On-site amenities consist of a professionally equipped fitness center, complimentary corporate concierge services and a deli with wireless Internet access.
About BPG Properties, Ltd.
BPG Properties, Ltd. is one of the nation's leading private equity real estate fund managers. BPG's portfolio consists of over 20 million square feet of office, retail, student housing, and industrial properties and more than 25,000 apartment units in more than 100 communities located throughout the United States. The firm is headquartered in the Philadelphia area with regional offices in Los Angeles, Chicago, Washington DC, Boston, Atlanta and Raleigh-Durham. For additional information, please visit the company's website at http://www.bpgltd.com.
For additional information on BPG Properties, Ltd., please contact:
Holly Reynolds, Vice President, 215-575-2363
For additional information on 1000 Continental, please contact:
Stephen M. Spaeder, Senior Vice President, 215-575-2386
# # #