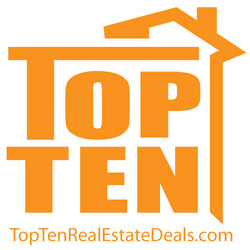 South Bend, IN (Vocus) July 1, 2010
Are you a top agent? Do you know your market inside and out? Are you looking for a way to expand your local and national market network?
Consider being a 'Concierge Agent' for TopTenRealEstateDeals.com and become the exclusive Top Ten agent for your market. Take advantage of Top Ten's huge media exposure and become a top resource for real estate deals in your market.
Recently, TopTenRealEstateDeals.com's Concierge Agent Rick Rapp was featured live on South Florida Today NBC6 news in Ft. Lauderdale-Miami because of his excellent Top Ten list and affiliation with TopTenRealEstateDeals.com.
TopTenRealEstateDeals.com is also looking for candidates to be featured in their annual Top 10 Beach, Golf, Ski, Romantic or Coolest Homes lists. Many of these lists have been picked up by some of the biggest media outlets in the United States including Yahoo, CNBC, The Wall Street Journal, and more.
Interested? If so, TopTenRealEstateDeals.com wants to know.
TopTenRealEstateDeals.com also features weekly the Top 10 homes for sale in the U.S., Top 10 dollar and percent discounts, Top 10 upcoming home auctions, and the Top 10 regional bargains in over 25 U.S. cities.
Top 10 lists are free to media outlets for publication.
Contact:
Jason Wakefield
Marketing Director
TopTenRealEstateDeals.com
press(at)toptenrealestatedeals(dot)com
###