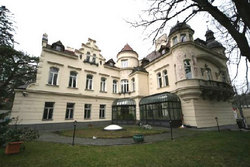 Despite the present tension in real estate markets we are recognizing an unexpected number of requests for high end properties. Demand is often outstripping supply
London, UK (PRWEB) October 12, 2008
The new site focuses purely on properties in the tourism hot spots of Austria. People who are interested in buying property overseas find a selection of luxury properties, Castles, Luxury Villas, Chalets, Apartments and Houses in Vienna, Lake Attersee, Salzburg, Kitzbühel, Zell am See, St. Anton and Ischgl. EliteAlps.com is the first Real Estate Website offering Austrian properties in Russian and English. In the near future an extension by Arabic, Danish, Polish and German is planned due to high demand.
Luxury Investments Ltd. sees plenty of opportunity in the Austrian Luxury Real Estate brokerage segment. Due to Austria´s attractiveness as a tourism destination, hosting more than 50 million people each year, this country is the global tourism capital, per capita putting it ahead of any other country in the world. This popularity has also shaped Austria´s real estate market. "Anything goes" seems to be the motto since a change in regulations has made it easier for foreigners to acquire properties in the Alpine Republic. In hot spots like Vienna, Salzburg, St. Anton or Kitzbühel property prices have skyrocketed in the last years. Despite the present real estate crisis those Austrian places seem to stay untouched as an increasing number of wealthy individuals from Russia, UK, Germany, Poland, Israel and Arabic countries is considering a second home in the center of Europe. Georg Singer, CEO of Luxury Investments Ltd. says, "Despite the present tension in real estate markets we are recognizing an unexpected number of requests for high end properties. Demand is often outstripping supply".
Especially locations like Kitzbühel, two hours west of Salzburg, have seen an astonishing real estate boom, with wealthy Russian individuals buying Villas, Chalets and Luxury Apartments.
Luxury Investments is very confident that EliteAlps.com will be a huge success, as the small country, that everybody outside of Austria connects with "Sound of Music" is famous for its unique combination of quality cultural offerings, tradition and unspoiled landscapes. Austria is located right in the center of Europe, three hours from Prague, one hour to Bratislava, one hour to Munich, 2.5 hours to Venice, 1.5 to Zurich. Living in Vienna, till 1918 the capital of the Austro-Hungarian Empire, now global music capital, means going to the world famous Vienna Opera House in the evening or enjoying the "New Year´s Concert of the Vienna Philharmonic" at Jan 1st each year, which is broadcasted to more than 50 countries and over two billion people. A three hour drive west of Vienna is Salzburg, the birth place of Mozart, scenery for "Sound of Music" in the 1960s and mostly well known for hosting the "Salzburg Festival" each year attracting thousands of celebrities from all over the world due to its world class program of classical music, opera and theatre. That Californian Governor Arnold Schwarzenegger was born in Austria, as well as "Red Bull", the energy drink, was founded there, is also contributing to Austria´s ongoing popularity and one of Luxury Investment´s bet on good business.
For additional information on the news that is subject of this release, contact Christina Tagel, or visit http://www.elitealps.com.
About Luxury Investments Ltd.:
Luxury Investments Ltd. is a leading real estate brokerage firm running the real estate portal http://www.EliteAlps.com focused on Austrian Luxury Real Estate, with partners in the UK, Germany, Austria, Estonia, Israel and Russia.
###