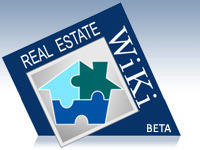 Aliso Viejo, CA (PRWEB) March 5, 2008
A new independent wiki that exclusively covers the real estate industry was officially launched this week. This is the culmination of a group of dedicated real estate professionals that laid the groundwork to create the industry's largest online free encyclopedia, Real Estate Wiki (http://realestatewiki.com).
The effort produced 3,000 definitions, 1,000 answers to frequently asked questions about home buying, selling and financing, 500+ acronyms, 400+ bio's of real estate leaders, authors, 600+ real estate brokerage companies and 800+ real estate associations, institutes, councils, designations, courses, blogs, social networks and publications.
Wikipedia, the world's biggest multilingual free-content encyclopedia on the Internet, has over seven million articles in categories such as Culture, Geography, History, Mathematics, Religion, etc. Due to its broad scope it doesn't drill down into industry specifics of each profession; hence, the development of industry specific wikis that focus exclusively on a specific profession or trade can provide more targeted information.
With an estimated 10 million people working in the real estate industry (construction, brokerage, financial, insurance, appraisal, etc.) real estate is often cited as one of the largest industries. Furthermore, real estate has top of mind awareness with consumers and 30 million of them search for homes to buy or rent every year making it the #1 search topic on Google.
During the first 6 weeks after its January beta launch, RealEstateWiki.com has already added 3,000 new entries. Although this barely scratches the surface, it is an impressive foundation that includes 70 categories such as:

Home Buyer Frequently Asked Questions
Home Owner FAQ's
Homes & Lifestyles
Who's Who in Real Estate
Government and Local Authorities
Associations, Institutes and Councils
Real Estate Newspapers
Real Estate Research
Real Estate Training Schools
Real Estate Brokerage Companies
RealEstateWiki.com is a privately funded, non-profit, non-bias venture similar to Wikipedia, and hopes that more volunteers in the industry that believe strongly in Web 2.0 will join the group of founding real estate professionals and cooperate to together build the largest, highest quality, free real estate encyclopedia in real estate as a resource for everyone to use.
Contact:
Zarita Senekal
949-349-9394
# # #