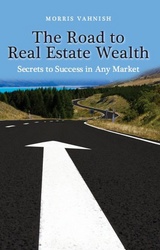 The Road to Real Estate Wealth: Secrets to success in any market
HOLLYWOOD, Fla. (PRWEB) December 3, 2008
But Moe Vahnish did it. Fresh out of college, he studied every real estate investing course he could get his hands on, applied for every credit card that you could think of, and maxed out handfuls of cards to purchase his first condo. A little over a decade later, he owns millions of dollars in properties and buys and sells dozens of them a year.
Now, this American success story has written a highly readable and practical guide that can teach just about anyone how he or she can do it, too.
"The Road to Real Estate Wealth: Secrets to success in any market," by Moe Vahnish is now available online at http://www.TheRoadToRealEstateWealth.com and is coming to major bookstores from coast to coast.
More than just theory, The Road to Real Estate Wealth walks readers through a dozen complete actual real estate transactions, allowing the reader to follow Mr. Vahnish as he searches for, selects, finances, renovates and sells properties at great profit. No previous knowledge is needed, but even veteran investors will find a world of new knowledge in this exciting book.
If you'd like more information, or like to schedule and interview with Moe Vahnish, please call Moe at 305-525-3540 or email Moe at Morris@roadtorealestatewealth.com.
MULTIMEDIA GALLERY http://www.businesswire.com/cgi-bin/mmg.cgi?eid=5844653