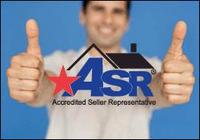 The best way for home sellers to sell their houses quicker and at the best possible price is to hire the best agent for the task, and the best agent needs to be qualified with the latest techniques and knowledge, such as the Seller Agency Specialist, Neighborhood Specialist or Staging Specialist
Aliso Viejo, CA (PRWEB) October 22, 2007
According to CNN, as declining sales and growing problems in the mortgage market helped push home prices down for the 12th straight month, homeowners trying to sell their homes are facing the biggest glut of homes on the market in about 16 years. Even the usually optimistic National Association of Realtors acknowledges that sales are slipping to an annual rate of about 5.75 million for the year 2007. This could be the lowest in years, well below 2003, 2004, 2005 and 2006 numbers - perhaps reaching 2002 levels.
"So with a slowing housing market, the number of homes for sale increasing by the day and the number of 'days on market' rising sharply everywhere, one of the best options to sell your house is to ensure that you have real estate that is suitably qualified to assist you in these difficult times," says Bill Shue, President of RealtyU® Group (http://www.RealtyU.com), the largest network of offline and online training companies and career enhancing services in the country.
"One benefit," says Thomas Mitchell, SVP with the Seller Agency Council, "is to use an ASR® (Accredited Seller Representative®) certified real estate professional. Unlike regular sellers' agents, ASR® designees have a proven industry track record and exemplify a strong commitment to exceed seller expectations throughout all facets of the real estate transaction. They are well trained and committed to provide today's seller with true value added services."
Sellers looking for agents to represent them all across the country and in parts of Canada are increasingly heading to the National Seller's Agent Roster at http://www.SellerAgency.com to locate a qualified seller's agent in their area. Real estate professionals that have earned their ASR® certification are featured with their photo, all their contact details and even a direct link to their website to ensure quick connectivity between consumer and agent.
According to Allen Wright, Vice President of the Neighborhood Specialist Council, which manages the Certified Neighborhood Specialist course and CNS designation, (http://www.CertifiedNeighborhoodSpecialist.com), "If agents want to separate themselves from the competition, and know more about the neighborhood and what it takes to sell a property in a neighborhood, they need to be familiar with all hidden gems and real facts about the neighborhood. Knowing the MLS statistics are not enough any more," he says.
Another very popular way to improve the salability of your house is to stage it. According to Andy Capelluto, founder of the Power of Staging and author of the Accredited Home-Staging Specialist (AHS) course (http://www.StagingSpecialist.com), "Staging your home correctly is a crucial step needed to help the buyers connect with a listing and visualize themselves living in the home."
"The explosion of houses for sale and real estate information has empowered consumers and overwhelmed agents while at the same time slowing down the market," says Shue. "The best way for home sellers to sell their houses quicker and at the best possible price is to hire the best agent for the task, and the best agent needs to be qualified with the latest techniques and knowledge, such as the Seller Agency Specialist, Neighborhood Specialist or Staging Specialist," he adds.
###