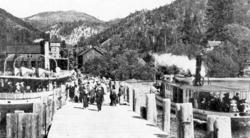 There is no need to sell Glenbrook NV. Endowment properties have obvious value, so those fortunate enough to purchase wait anxiously for the opportunity to own
Zephyr Cove, NV (PRWEB) May 25, 2010
Absolute Auctions have never seen the inside of Historic Glenbrook in Lake Tahoe, NV. The reason is simple; a rare few families have owned and controlled this luxury enclave for over 150 years. Real estate in the form of bare land lots have sold for $1.5M to as much as $20M apiece - plus the cost of the sanctuaries that were built and ultimately blended into the woods along these beachfront settings..
Add to this serious lack of real estate supply, the control of property values has been kept up by such rare real estate owners as Fleishman (foods), Kingman (sports), Ruvo (wines - spirits), Carano (fine wines), Scripps, Bliss and other well-to-do elites. Thus, the value of the secret Glenbrook enclave has remained remarkably strong in the face of other overdeveloped areas throughout America.
Glenbrook is located in one of the world's most stunning geographical arenas. Lake Tahoe Nevada is more than just a tax haven for the wealthy. Lake Tahoe is a gourmet serving of the most sumptuous crystal clear waters, mountains, beaches, sunshine, and recreation available anywhere on earth.
Real Estate movers and shakers like Chase International, Sotheby's, and Exclusively Lake Tahoe have been the usual entree to ownership. Elaine Casteleyn, one of Lake Tahoe's long-time brokers says, "There is no need to sell Glenbrook - endowment properties have obvious value and those fortunate enough to purchase wait anxiously for the opportunity to own."
If you are on a holiday vacation this July 4th - take the time for a rare glimpse of how the other half lives. Visit Historic Glenbrook in Lake Tahoe, NV. Perhaps you'll even see the likes of Charles Barkley, Dan Quayle, Mario Lemieux, or Michael Jordan - they'll be around for the Celebrity Golf Classic held July 11 - 17th.
Want more information for vacation ideas in Lake Tahoe - Contact Elaine Casteleyn 888.826.7310
# # #