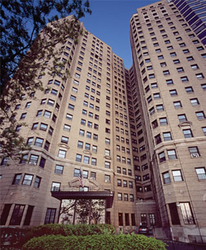 To have this building as our first auction is an honor," said Chris Feurer, chief executive officer for Jameson Real Estate. "But more importantly, it presents a rare opportunity for buyers to enjoy a Lake Shore Drive address at fantastic prices.
Chicago, IL (PRWEB) March 19, 2010
In a new joint venture for real estate auctions, Jameson Real Estate, one of Chicago's top residential brokerage firms, and Fine and Company, LLC, a real estate auction and advisory firm, will auction 30 luxury residences at 1400 Lake Shore Drive, a historic Chicago condominium building in the heart of the Gold Coast developed by RDM Development. This is the partnership's first auction.
According to Michael Fine, principal of Fine and Company, this is only the second time a developer has offered Chicago condominiums at a real estate auction on Lake Shore Drive, the last time being 20 years ago.
"To have this prestigious building as our first auction is an honor," said Chris Feurer, chief executive officer for Chicago-based Jameson Real Estate. "But more importantly, it presents a rare opportunity for buyers to enjoy an incredible location in the heart of Chicago's Gold Coast with a Lake Shore Drive address at fantastic prices."
Robert Mosky, chairman of RDM Development, said the timing for the auction at 1400 Lake Shore is fortuitous given the upcoming tax credit deadline. "We have a short window of opportunity to focus the market on this building before the tax credit deadline to purchase ends on April 30th," said Mosky. "Because of this building's fantastic location and ambience, I know we're going to see a great turn out from buyers who are ready to enter the market."
Mosky also expects a high turnout at the real estate auction due to recently increased commitments from lenders to offer financing to buyers at 1400 Lake Shore Drive. "Our approved lenders are very excited about the auction, so qualified auction buyers can bid with confidence that mortgages are available to them," he said. "Further, the auction allows the building to reach today's more stringent lending requirements for conventional mortgages. This is great for resale values."
Bidders can choose from a variety of floor plans, including studio, one-, two- and three-bedroom layouts. Of the 30 condominiums to be auctioned, 15 will be sold subject to minimum bids ranging from $50,000 for a studio to $200,000 for a three-bedroom home.
"When we hit these low minimum bids, the developer must sell," acknowledged Fine. "The auction is a wonderful opportunity for the buyer to get an outstanding buy."
The Chicago condos being offered can be purchased either in their existing condition or with a turn-key renovation including all new kitchens, baths and much more. Furthermore, they are being offered either vacant and ready for immediate occupancy or with tenants in place, which benefits either homebuyers who do not plan to move in immediately or investors.
Building amenities of the Chicago condos include a day spa and salon, 24-hour front desk, gourmet grocer, dry cleaners, party room with kitchen, fitness center, roof top deck with grilling facilities and space for a future restaurant.
According to Feurer, the 1400 Lake Shore Drive auction marks the first true joint venture between a leading residential brokerage firm and a real estate auction firm.
"While it's unique now for a residential brokerage firm to offer auction services to its clients, we're confident it's a natural progression for our industry," said Feurer.
Due to challenging market conditions, short sales and foreclosures, auctions are becoming viable alternatives to buying and selling real estate. "At first, Realtors and buyers were apprehensive about short sales and foreclosures since they were outside the realm of traditional real estate transactions, but now many are embracing them. The same phenomenon will occur with auctions," said Feurer.
The condominiums will be offered at auction on April 25, 2010. The auction will take place at the Doubletree Hotel Chicago, 300 E. Ohio St., Chicago. Registration begins at 11 a.m. and the auction begins at 12 p.m.
The Chicago condominiums can be viewed from 12 p.m. to 3 p.m. on March 27 and 28 and April 10, 11, 17, 18 and 24. Bidder packets, which are required for bidding, are available at all open houses, Jameson Real Estate's office at 425 W. North Avenue and at the auction. For more information on the real estate auction, visit http://www.1400lsdcondos.com.
About Jameson Real Estate
Jameson Real Estate is a full-service real estate organization which was founded by Harry and Charlie Huzenis more than 28 years ago and has sold over $16 billion in commercial and residential real estate. In 2008 and 2009, Jameson Real Estate received an Agents' Choice Award for Favorite City Brokerage Firm from Chicago Agent magazine.
About Fine and Company
Headquartered in Chicago with offices in Dallas and Las Vegas, Fine and Company, LLC specializes in asset-specific marketing. With more than 23 years of experience in real estate auctions, Fine and Company, LLC ensures the highest level of service, transaction experience, and intellectual capital, creating an environment that sells all categories of property quickly, efficiently, and at a price that reflects true market value.
Photos:
On April 25, Jameson Real Estate and Fine and Company, LLC will offer 30 luxury Chicago condos at auction at 1400 Lake Shore Drive. This is the first real estate auction for a residential property on Lake Shore Drive in 20 years.
Editors:
For more information or to schedule an interview, please contact Kim Manning with Taylor Johnson at (312) 267-4527 or kmanning(at)taylorjohnson(dot)com.
# # #