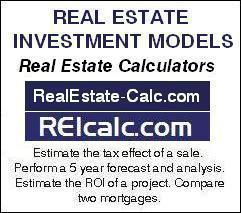 Jersey City, NJ (PRWEB) July 15, 2008
RealEstate-Calc and REIcalc are new websites specifically geared to advanced online real estate and mortgage calculation tools. These two websites, designed by Analytical Finances Inc, are intended to aid the small to intermediate investor in numerically understanding the financial implications of owning real estate. Most online calculation tools provide limited utility and are merely marketing strategies employed by mortgage companies. With the current mortgage crisis, the general public could benefit greatly from improved tools and education on the subject of property ownership and mortgage financing.
Everyone should be reassessing their real estate holdings at least once annually. Homeowners and investors should be 1) performing a five year forecast (at the very minimum) of their property holdings and 2) should be reviewing their mortgage costs for possible refinancing. Here are two obvious reasons: 1) most people have the majority of their net wealth allocated to their personal residence, and 2) real estate is truly a fascinating mechanism for wealth accumulation.
Determining to refinance your mortgage may require a more sophisticated approach than most mortgage calculators provide. Most online mortgage calculation tools lack the sophistication necessary to be of much use and are so seriously lacking in their complexity that they are nearly financially ineffectual.
Determining the economic benefits of refinancing depends on many factors, i.e. 1) what is the rate on your existing loan, 2) what is the current rate at which you can refinance, 3) what will it cost you to refinance, 4) how long do you expect to hold the property hence hold the loan, and 5) what is the time value of money. RealEstate-Calc and REIcalc can help guild you through a step by step approach in the application of these variables.
When creating any financial calculator or model there is a trade off between complexity and simplicity versus effectual and ineffectual and striking the right balance is the key to being a good analyst. "Mathematical modeling", "manipulation of numeric data" and "displaying numeric results" are all part of an art form. To think otherwise would produce less than superior results.
There are more types of calculators than just mortgage calculators. There are real estate calculators that can assist you in determining the cost of buying, selling and holding real estate. They can help you determine the tax consequences of selling a single family or multifamily property which is either investment property or primary residential property. Perform a 5, 10, 15 or 25 year forecast of rental property, multifamily property or primary residential property.
There are business plan calculators. These types of calculators are useful for those interested in starting a small business. No business plan can be complete without a financial forecast and numeric framework. Many people considering starting a small business prefer to overlook the utility of a business plan; however those that require funding through more conventional sources often are required to have some type of minimum financial plan in hand.
Try the mortgage calculators.
Perform a 5 year forecast:
rental property
primary residential property
multifamily property
Estimate the tax consequences of a sale:
rental property
primary residential property
multifamily property
Please note that the financial tools on RealEstate-Calc.com and REIcalc.com are not intended to be a substitution for seeking professional legal, professional tax, and professional financial advice. These financial tools should not be used by anyone to make material financial decisions and should solely be used for informational purposes only. Users should develop their own financial tools for the purpose of forming their own conclusions and are encouraged to seek professional advisement from all of the following: 1) a lawyer, 2) a tax specialist and 3) a financial planner.
###