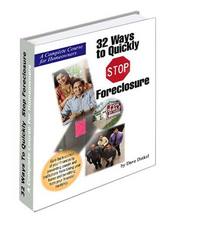 32 Ways To Quickly Stop Your Foreclosure
Hallandale Beach, Fla. (PRWEB) October 17, 2007
Real estate investor and home foreclosure expert Dave Dinkel recently launched a Web site designed to help victims of the recent foreclosure crisis take back control of their financial destinies.
Through the Web site (http://www.StopMyForeclosureMess.com), Dinkel -- a professional real estate investor with 32 years of experience in the field -- is offering a myriad of materials to help homeowners save their houses, sell their property at full-market value and improve their credit scores. This material includes an information-packed e-book called the, "32 Ways To Quickly Stop Your Foreclosure." In the book -- available for download at the Web site -- the home foreclosure expert reveals the 32 methods to successfully put a stop to foreclosure, gleaned from more than three decades of experience in the arena.
"Foreclosure is a national crisis that destroys families, ruins their credit for years to come, and is both embarrassing and humiliating," said Dinkel. "But whether you want to keep your home or just want to sell and get out, the information you will learn in our material will put you back in control of your situation and give you options to achieve the best possible outcome."
The e-book is loaded with information designed to meet all of the daunting challenges associated with the issue, Dinkel said.
"Because few people expect to face these types of problems, they are not prepared for the legal process, which seems very complicated," Dinkel said. "The gut-gripping fear of the unknown; the constant paralyzing indecision because of the uncertainty of what happens next; and the endless amount of advertising from lenders, credit counselors, mortgage brokers, attorneys, Realtors, and investors wanting to 'help' them with saving their home and/or credit. The reality is that the majority of these people want to make money off the owners."
The real estate investor and home foreclosure expert said his company is not out to buy homes, but to help owners.
"We do not want you to fill out a questionnaire to 'help' you, with the actual intent of stealing your home way below market value," Dinkel said. "The information in this e-book will guide you hour-by-hour, day-by-day and step-by-step until you take back control of your destiny."
About Dave Dinkel
Real estate investor and home foreclosure expert Dave Dinkel entered the financial arena as a stock and commodity broker with Merrill Lynch in 1970. While a stock broker, he became a Certified Financial Planner and later started his own brokerage firms and stayed in the financial services industry for 22 years before retiring to pursue his love of real estate investing. Dinkel has been a national platform speaker, contributor to local real estate clubs, mentor and consultant to numerous real estate investors -- all while running his own real estate business. He has received the following degrees or designations: BSChE, FINOP, CFP, MSRP, RSP, RR, ROP, SROP, MGA, GA, Certified Estate Planner, Licensed Mortgage Broker, and Licensed Insurance Agent. His most recent contribution to the public's education, besides his article publications, is the publishing of the FSBO Power Selling System™. The system is designed to teach homeowners proven techniques that Dinkel has developed, which sell houses quickly while saving homeowners thousands of dollars when selling their properties. In addition, because of the current real estate crisis and the large amount of property in foreclosure, Dinkel has created the "32 Ways To Quickly Stop Your Foreclosure" e-book, available at his new Web site, http://www.StopMyForeclosureMess.com.
###