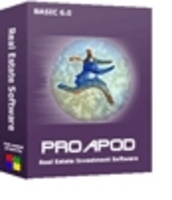 We receive a lot of inquiries from real estate professionals in Canada asking about ProAPOD
Salem, OR (PRWEB) April 10, 2009 -
ProAPOD, the popular real estate investment software used for rental property analysis, has released an investment software solution for real estate agents and investors in Canada.
"We receive a lot of inquiries from real estate professionals in Canada asking about ProAPOD," says developer James Kobzeff. "So we felt that it was time to provide a real estate investment software solution our Canadian friends can use for their real estate investing purposes."
According to Kobzeff, the mortgage payment calculation required modification. Because US mortgages are compounded monthly and Canada mortgages compound semi-annually, a slightly lower mortgage payment results in Canada than in the U.S.; therein preventing most Canadians from taking advantage of the real estate software despite their eagerness to create cash flow and rate of return analysis presentations.
"So we took our flagship real estate investment software ProAPOD 6.0 and modified it so Canadians can use it," Kobzeff says. "ProAPOD 6.0 creates superior investment analysis reports with pre-tax cash flows and rates of return calculations, is very user-friendly, and is extremely affordable."
Here's what was done.
ProAPOD includes a form in all of its real estate investing software solutions that enable users to enter up to three fixed-rate or interest-only loans. They took that form in ProAPOD 6.0 and added the option to select whether to compound monthly (US) or semi-annually (Canada).
'We made it very easy,' Kobzeff adds. "The user simply makes a single selection and our software computes the correct mortgage payment across-the-board based upon that selection. Now agents and investors on both sides of the border can use it with no hassle."
Pricing & Availability
ProAPOD 6.0 is modestly priced at just $149.95 and runs as an application for Excel under Windows. Licensed users get two downloads (so they can load it on their office and home computers), plus free updates and premium technical support for one year. There are no annual fees, no time restraints, and payments are made securely through PayPal.
About ProAPOD
ProAPOD is a privately held company developed in 2000 by real estate professional James Kobzeff to give the real estate community a suitable replacement for other real estate analysis software deemed too expensive, cumbersome, and lack luster.
Since its release, ProAPOD has been featured by REALTOR® Magazine as a 'Cool Tool' (May 2003), it's Mortgage Calculator software used at Southwestern College in Kansas, and is favored by novice real estate professionals, more advanced CCIM designates, new and experienced real estate investors, appraisers, and consultants throughout the United States and abroad.
More information about all ProAPOD real estate investment software solutions, including sample reports, screen shots, and videos is available from proapod.com.
Contact:
James R Kobzeff, Owner
ProAPOD Real Estate Investment Software
503-949-9034
###