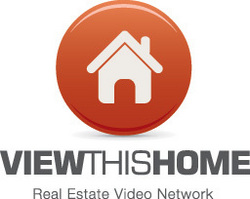 With billions of videos being watched on the internet, we envisioned a comprehensive video website for agents and consumers to post video and search for video in a professional environment without the distraction that some video hosting websites have
Charleston, SC (PRWEB) April 28, 2009
View This Home, LLC launched to fill a need for a real estate video hosting website dedicated to the industry specific needs of agents and provide a platform to host property video for the general public.
Founded a year ago by Keller Williams Charleston Island Realty agents Ken Earnhardt and his wife Darlene Smith, ViewThisHome.com is currently in Beta testing. With a combined experience of over 30 years in the real estate industry, Earnhardt and Smith used their passion for real estate with the void of a real estate video hosting website to create their vision for View This Home. "With billions of videos being watched on the internet, we envisioned a comprehensive video website for agents and consumers to post video and search for video in a professional environment without the distraction that some video hosting websites have," says Earnhardt.
The popularity of video hosting sites used by the general public to self-broadcast has now become widely accepted in the professional world. ViewThisHome.com is designed with this trend in mind. Agents and consumers are able to create and edit their own videos and use the website as the hosting platform. Earnhardt recommends using simple movie making software that now comes standard on most computers to edit video.
After registering for a free subscription to the site, members can upload unlimited property videos to their video network, post a company logo and add a profile picture at no cost. These videos can be embedded and linked to the Multiple Listing Service where they will be unbranded to meet the requirements of local MLS. "We are working extremely hard on our SEO to ensure that our website is at the top in a Google search for real estate video. Our page rankings are increasing daily," Earnhardt says.
Earnhardt and Smith designed the website with the earth-friendly movement in mind and coined the phrase "Show Before You Go". Consumers can view a video of a property on the website and determine if it would fit their needs before driving to the home. This will help to conserve energy, fuel and resources. Smith says, "Viewing video of homes online first will not only benefit the environment, but provides buyers with a more interactive platform for previewing homes."
Web users are watching video online at the rate of billions a month according to an online poll. "Video is just so much more interactive than photos and even virtual tours. The video revolution is changing the way agents and the general public does business online. Agents should embrace this now or risk getting left behind," says Smith.
The blog on the site is a resource for agents and consumers to interact and network with other property owners. Earnhardt's cousin Kimberly E. Beasley is the website virtual spokesperson and blog administrator. "The blog feature, Ask Kimmie, is a great place for anyone to engage in conversation about real estate technology and video. Agents and consumers will find the blog useful for discovering innovations in video technology that they can begin to implement in their marketing strategy," says Beasley.
The website is designed to accommodate many professions within the real estate industry and from anywhere in the world. Home inspectors, interior designers, for-sale-by-owners, home stagers, appraisers and rental agencies will benefit from the video platform. Earnhardt says, "We just wanted to create a site that connected any video relating to the real estate industry under one umbrella. Wherever you look for real estate videos in the world, we want to be the website to come to. We even have videos of vacation homes in Costa Rica!"
For more information about this website, visit http://www.viewthishome.com
###