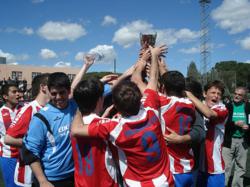 Playing against REAL MADRID is a dream come true for our EduKick Academy players. They are anxious to face off against the famous white kits of REAL MADRID! We wish all our lads the best in the tournament." - Joey Bilotta, Founder, EIFA
Madrid, Spain (PRWEB) March 29, 2012
EduKick International Football Academy Squads from England and Spain to play Real Madrid. C.F. Under-18 side in the famous Spanish International Youth Tournament, the Alcala De Henares Cup!
EduKick International Football Academy's soccer teams from England and Spain are scheduled to meet Real Madrid for the second consecutive year.
Real Madrid is confirmed to return for the XXVI edition of the Youth Football (Soccer) International Championship "Alcala de Henares Cup". This will take place in Madrid, Spain in April.
When asked how the players are expected to perform against Real Madrid, EduKick Madrid's Head Technical Coach, Sergio León replied, "I expect a serious team that will make a huge effort to show our highest level within the field."
EduKick's teams are hoping for a victory this year, but León says their biggest hope is for, "the desire and enthusiasm of everyone to learn and become better."
Sergio León believes EduKick's biggest challenge this year will be to, "improve ourselves, to grow personally and professionally, to have an exemplary attitude on and off the field and to maintain a nice experience for everybody."
EduKick players from both the England and Madrid academies are very excited to have an opportunity to play against one of the world's biggest and most popular football clubs.
The EduKick staff shares this excitement. Anselmo Vicioso-Aragonés, EduKick Madrid's Director and Professional Sports Psychology Consultant, gives a words of inspiration. "This is your greatest chance ever to show who you are in soccer. Come and do your best. We believe in you one hundred percent. Let's do it."
The Alcala de Henares Cup serves as an annual family reunion for EduKick International Football Academies. EduKick Madrid welcomes their "sister academy" EduKick England to Madrid every year for this special footy event.
Joey Bilotta, EduKick Founder and Vice President, and Jon Morgan, EIFA General Manager, will also be attending the tournament again in April. Bilotta and Morgan will visit all the participating EduKick academy players and meet with staff and business partners while in Madrid. The players parents are also invited to attend this annual event and will get the opportunity to meet all the staff, players and friends attending this traditional Spanish "Easter" football (soccer) tournament.
In an effort to provide it's players the maximum amount of exposure, EduKick has also invited two affiliated FIFA agents to attend the tournament in order to scout the EduKick footballers that may be capable of professional football trials.
Interested parties should contact EduKick International Football Academies for additional information on their unique football and education year long courses. Registrations are being accepted now for the upcoming academic year beginning in September.
EduKick International Football Academies (EIFA) offers academic year football (soccer) academies in England, Spain, Italy, France, Brazil, Mexico, Canada and the USA. Custom "team Tours" and summer language immersion soccer camps also available with EIFA.