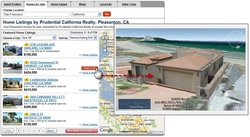 This innovative and engaging rich media solution enhances and completes the consumer's search for a home
El Segundo, CA (PRWEB) November 9, 2009
HomeGain® is partnering with CyberCity 3D to provide HomeGain's agent members the ability to display CyberCity's 3D Virtual Viewing marketing products directly on http://www.HomeGain.com. 3D Virtual Viewing, an innovative Internet marketing tool for real estate agents, promotes homes for sale through the Google Earth™ API virtual globe. This unique marketing tool provides an interactive, 3D model of the home designed to increase web advertising exposure and attract consumers searching for their next home.
"This innovative and engaging rich media solution enhances and completes the consumer's search for a home. Virtual Viewing provides the right amount of content consumers now demand; it's visually engaging, supplying realistic perspectives of the home and surroundings; and most importantly, it connects the consumer to our real estate agents," states Louis Cammarosano, General Manager of HomeGain®.com.
Viewing properties in eye-catching 3D on the most popular virtual globe, Google Earth™ API plug-in, is quickly becoming the hottest online, 3D search experience. CyberCity's 3D Virtual Viewing product supplies pertinent information buyers request before making a purchasing decision: the proximity of the home is to work, freeways, restaurants, shopping malls, schools, churches, and more. 3D Virtual Viewing visually represents all of this on one platform while showcasing a property's unique location.
"Online Real Estate search trends are changing. Consumers want accurate information, relevant content, website innovation, and a great consumer experience," observes Jackie Murphy, Director of Product Management for CyberCity 3D. "Our goal is to expand our 3D product road map to include additional innovative marketing tools and ground-breaking technologies that will continue to enhance the consumer experience, drive additional traffic, and increase engagement on our clients' real estate internet listing sites and agent/broker websites necessary to keep up with the ever-evolving internet search trends."
HomeGain® agent members can now link their CyberCity 3D models to their property listings directly from their AgentView product. Agents simply enter the 3D model URL in their HomeGain® account for that listing and a "View in 3D" button will automatically appear on HomeGain®'s Search Results and Listing Detail pages linking the Google Earth™ API 3D model to the listing.
Using 3D Virtual Viewing marketing products, real estate companies now have the opportunity to leverage new media tools-- and gain a key competitive advantage.
About HomeGain®
HomeGain® (http://www.homegain.com) is a leading provider of online marketing solutions that connect real estate agents and brokers with homebuyers and sellers. HomeGain® offers free services to find and compare real estate agents, research home values, and view homes for sale. Real estate agents and brokers use HomeGain®'s real estate marketing solutions and real estate lead generation tools to connect to consumers, promote their services, and grow their business.
About CyberCity 3D, Inc.
CyberCity 3D (http://www.cybercity3d.com) is a state-of-the-art, 3D geospatial modeling company specializing in emerging GeoWeb advertising and marketing solutions for residential and commercial real estate, travel destinations, government agencies, the environment, and geographic information systems (GIS). The Company is one of the first to offer realistic, three-dimensional, building and city models through the Google Earth™ API plug-in.
Please contact:
Jackie Murphy
Director of Product Management
CyberCity 3D
(310) 760-2563
jmurphy (at) cybercity3d (dot) com
http://www.cybercity3d.com
###